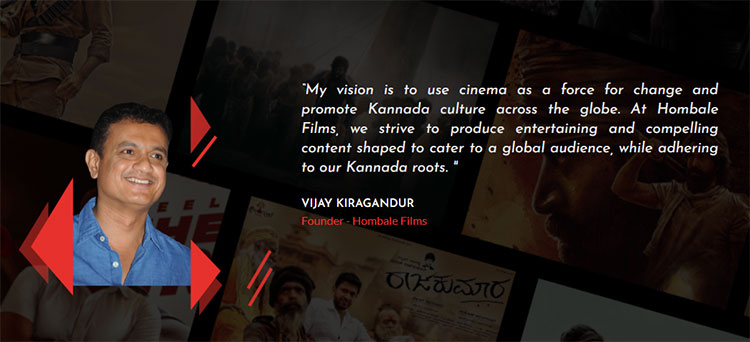 2 January 2023
Hyderabad

Kannada production house Hombale Films, which owned last year with box-office smashes KGF: Chapter 2 and Kantara, has a slew of titles lined up for this year, with Prabhas-starrer Salaar, eyed for a September release, being the major one. The production house's chief Vijay Kiragandur on Monday said that he will be investing Rs 3,000 crores in the entertainment sector over the next five years.
'As we embark into the new year, we promise to produce compelling content with an immersive experience that can have a lasting memory and can leave an indelible impression upon you. With this interest in mind, we pledge to invest ₹3,000 crore in the coming five years for sustainable growth in the entertainment sector," he said, taking to Twitter.
Describing India as a land of diversity, he added the country presents a wide opportunity to unlock the vast potential that is available in the youth of the nation. "Cinema entertainment has been there since time immemorial and it has been viewed, lived and appreciated by everyone. Whether good times or bad it has been a huge medium of relief and joy. It has also been a strong carrier of our culture, tradition and history through which we have been showcasing our identity to the world at large," he added.
Some of Hombale's upcoming films include Raghu Tatha (Tamil) starring Keerthy Suresh, and the Malayalam movie Dhoomam starring Fahadh Faasil and Aparna Balamurali.