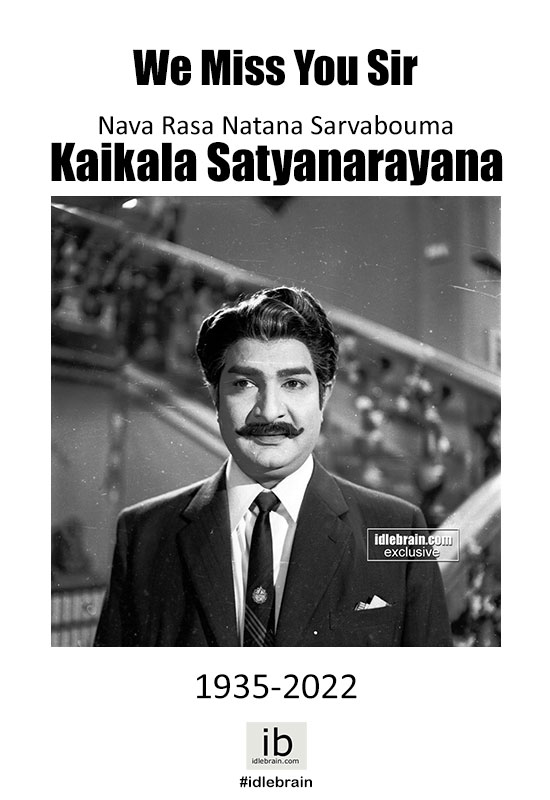 23 December 2022
Hyderabad

The effortless ease with which he approached a character, his command of the language, diction and his baritone contributed immensely to Kaikala Satyanarayana's tremendous growth as an actor. Be it folklore, mythological, historical or social, he has left his imprint in all the genres, immortalizing characters like Yama and Ghatotkacha and in doing so, cemented himself permanently in the hearts of all Telugu people.
Born on July 25, 1935 in Krishna district of Andhra Pradesh, Kaikala was not interested to join films to begin with. It was his uncle Anjaiah who wanted Kaikala to try his luck as an actor in the industry. After all, Kaikala was a stage artist who walked away with the best actor trophies in college competitions during 1954-55. More than films, Kaikala, however, was keen on being the first from the family to get a degree, which he got from Gudivada College.
After graduation, he was asked to audition for a role in Kodukulu Kodallu in Madras. Taking consent from his father he left for Madras but things were far from a smooth ride. He couldn't land the film and after days of toil, the celebrated KV Reddy signed him for Pellinaati Pramanalu after multiple rounds of screen tests. A few days later, Kaikala had to make way for someone else for the same role. He was obviously gutted but KV Reddy asked him to stay in touch, while he spread a word or two about the new talent to everyone he knew.
While Kaikala eyed supporting roles, he got a lead role surprisingly in DL Narayana's Sipayi Koothuru, directed by Changayya in 1959. He was signed for Rs 300 a month to do the film. The film, however, bombed at the turnstiles. Offers dried up. The fact that he had done as a hero meant that no one was willing to look at him as a supporting actor. So frustrated with his situation in Madras at that point of time that he contemplated suicide, not keen on going back home as a failure. It was around this time that advice from director Vittalacharya changed his hoodoo. He told Kaikala that there is heavy competition for hero roles and as he doesn't have any backing, he should turn into a villain. He promised him a role if he switches tracks. Kaikala agreed and the first film in their combination was Navagraha Pooja Mahima. The film saw Kantharao and Vanisri in key roles. Later, Vittalacharya repeated Kaikala for Aggi Pidugu. Starring NTR in dual roles, it was wrapped up in 28 days and Kaikala was one of the two villains (Rajanala was the other). The preview of the film was attended by who's who of the industry to see how Vittalacharya completed a dual roles film within 30 days. After the show though, it was Kaikala who was on everyone's mind. He managed to leave his impression as a villain with the film. It was the turning point of his career. He was booked for five upcoming films of NTR the next day.
Slowly, Kaikala emerged as the numero uno choice to play villain and within no time, he was the man who was locking horns with NTR, ANR, Krishna and Sobhan Babu frequently. There was no looking back from then on. So packed was his schedule that he couldn't allot his dance card for some films.
Yamadonga (1977), starring NTR and Jayaprada, was another feather in his illustrious cap. His pronunciation of Yamunda won him countless admirers and the character became so iconic that the makers went on to repeat him for future Yama-based films like Yamudiki Mogudu, Yamaleela and Daruvu among others. His range and versatility was unparalleled, giving him the moniker Navarasa Nata Sarvabhouma. While the villain roles got him renowned initially, he later essayed emotional and meek husband roles in films like Tata Manavudu, Sirisiri Muvva, Kondaveeti Donga, Bobbili Raja and Nari Nari Naduma Murari to perfection. He received plaudits for his turn as Sridevi's dad in Subhas Ghai's Karma. His act as Ghatotkacha in SV Krishna Reddy's Ghatothkachudu endeared him to kids especially. He was last seen in Mahesh Babu-starrer Maharshi where he played Pooja Hegde's grandfather.
With NTR though, Kaikala shared a special bond. They did 101 films together, which is a record of sorts. For K Viswanath's Kalisochina Adrustam (1968), they worked for 36 hours on the trot. Except lord Rama and lord Krishna, Kaikala played all the mythological roles that NTR essayed on the screen. The Nata Ratna would fondly address Kaikala as Thammudu.
Kaikala had special attachment to Gudivada, where a street is named after him. He was instrumental in the construction of a Kala Mandir there, with his personal contribution matching that of the government's.
He ventured into movie production, establishing Rama Films under his second daughter's name. The stint was successful as he bankrolled eight films, including Kodama Simham (1990), Bangaru Kutumbam (1994), and Muddula Mogudu (1997). He had a brief brush with politics as well, as he served as an MP in the 11th Lok Sabha representing Machilipatnam constituency from Telugu Desam Party. For his yeoman services to the industry as an actor, he was awarded Raghupathi Venkaiah Award in 2011 and Filmfare also presented him with lifetime achievement award.