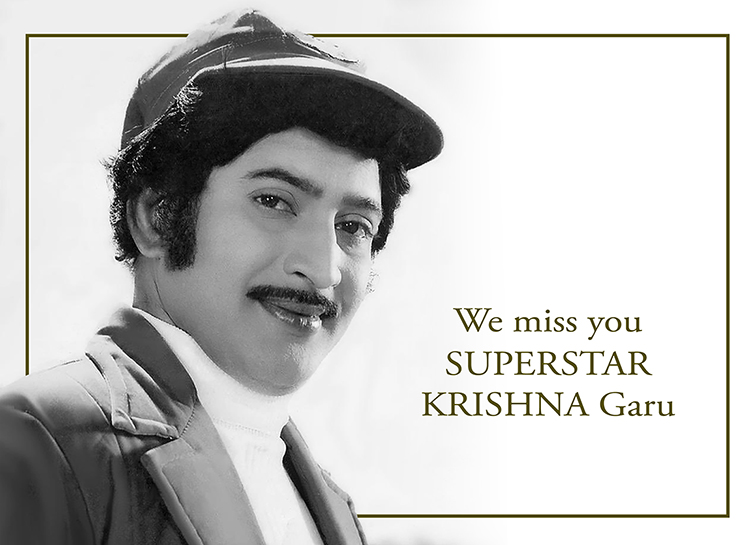 15 November 2022
Hyderabad

After NTR and ANR, superstar Krishna is perhaps the only actor who strode on the Telugu film landscape like a colossus, giving it both the technical blueprint and the courage to experiment. Bestowed with the epithet daring and dashing hero, he is, after all, credited with producing many technological firsts in the Telugu film industry such as the first Cinemascope film – Alluri Seetharama Raju (1974), the first Eastmancolor film – Eenadu (1982), the first 70mm film – Simhasanam (1986), the first DTS film – Telugu Veera Levara (1995). He also holds the distinction of introducing cowboy (Mosagallaku Mosagadu) and spy genre (Goodachari 116) successfully to the industry. At one point, he was referred to as Andhra Cowboy and Andhra James Bond by his fans affectionately. Mythological, folklore, social, you name it and he's done it. It's an envious body of filmography that is tough to replicate for any actor of the current generation.

Born on 31 May 1943 in Burripalem, Guntur district of present-day Andhra Pradesh, NTR's tour de force act as Thota Ramudu in Pathala Bharavi (1951) sowed the seeds of acting in Krishna at a tender age. And the reception ANR got when he came to a Tenali theatre to ring in the 100 days run of Thodikodallu (1957) meant that Krishna was determined that he too be accorded the same amount of effusive adulation and love one day. Blessed with good looks, he started his career with tiny roles in films like Kula Gothralu (1961), Padandi Mundhuku (1962) and Paruvu Prathishta (1963). And as luck would have it, his first film as a lead, Thene Manasulu (1965), was directed by Adurthi Subbarao, who was the director of Thodikodallu. Thene Manasulu went on to succeed at the box-office. In fact, Subba Rao was pressured to drop Krishna from the film but he stuck his neck out and persisted with Krishna. The success of the film meant that the director went on to repeat Krishna for Kanne Manasulu the following year.
An agonizing wait of six months followed after Kanne Manasulu. He next bagged Goodachari (1966). Directed by Doondi, the spy thriller was a major breakthrough in Krishna's career, establishing him as a major force to reckon with, while spawning several unrelated sequels in the subsequent years, namely, James Bond 777 (1971), Agent Gopi (1978), Rahasya Gudachari (1981) and Gudachari 117 (1989). From then, there was no looking back for the actor as he whipped out one hit after the other. During this period, he also worked with his seniors NTR and ANR, in films such as Stree Janma (1967), Niluvu Dopidi (1968), Manchi Kutumbam (1968), Vichithra Kutumbam (1969), Akka Chellellu (1970. He later founded Padmalaya Films with his brothers Hanumantha Rao and Adiseshagiri Rao (in 1971) and went to associate with some landmark films in his career such as Agni Pariksha (1970), Mosagallaku Mosagadu (1971), Pandanti Kapuram (1972) and Alluri Seetharama Raju (1974).

South India's first CinemaScope film, Alluri Seetharama Raju narrated the life of Alluri Sitarama Raju, an Indian revolutionary, who is known for his role in the Rampa Rebellion of 1922–24. The film defined Krishna's career as an actor as it went on to bag the Nandi Award for Best Feature Film, and was screened at the International Film Festival of India in the mainstream section, and Tashkent Film Festival. It had a theatrical run of 175 days in many centres of Andhra Pradesh and ended up becoming the highest-grossing Telugu film of the year. The legendary NTR also toyed with the idea of making a film on Alluri, Viplava Jyothi Alluri Seetharama Raju, multiple times during the late '60s. It was a dream project of sorts for him but couldn't proceed due to multiple issues. Even after Krishna's attempt, NTR wanted to make it with Raghavendra Rao in the director's saddle. But after watching it in Vijaya Krishna theatre in Madras back then on the insistence of Paruchuri Gopalakrishna, he aborted his plans completely while simultaneously singing praises about Krishna and the film. Another interesting trivia about Alluri Seetharama Raju is that Krishna directed a major part of it after original director V Ramachandra Rao fell sick.

After Alluri Sitarama Raju though, Krishna had to endure a tough time at the turnstiles with as many as 13 consecutive flops. The audience was reluctant to watch him in softer roles after Alluri. He bounced back to winning ways with home production Paadi Pantalu (1976), which dealt with several contemporary agrarian issues. In 1976 when he announced his intention to make Kurukshetram, it surprised NTR who at the same time was keen on making Dana Veera Soora Karna. Neither of them relented though and made both the films at a breakneck speed. Luckily, both the films performed well at the box-office. Krishna even shot the film's climax at Kurukshetram in the north.

Continuing his golden run with Saavaasagallu, Krishna further penetrated into the urban mass segment with the super-hit film Dongalaku Donga. Between '64 and '95, he acted in 10 films in a year on average with the highest being 18 films in 1972. As an actor, he always believed in doing more films, which generated employment to others. Films like Mundhadugu, Kiraayi Kotigaadu, Adavi Simhaalu, Sakthi and Prajaarajyam helped him to reach the top position in 1983 and his reign at the top continued in 1984 with films such as Iddharu Dongalu, Bangaaru Kaapuram, Mukyamanthri and the lavishly made Kanchukaagada. Krishna's career was at its pinnacle in 1985. He acted in monster hits such as Agniparvatham, Palnati Simham and Vajrayudham in that year. While 1986 started on an abysmal note with two of his films – Krishnagaaradi and Brahmasthram–biting the dust, he rediscovered form with Simhasanam, which he directed. Late '80s saw him dishing out hits like Muddayi, Dongodocchaadu, Thandri Kodukula Challenge, Koduku Diddina Kapuram, Saahasamee Naa Oopiri, Gudachari 117 and Goondaarajyam, while some others ended up as average fares. '90s didn't start off on a great note as Nagaasthram and Anna Thammudu were met with average response. After his directorial Raktha Tharpanam sank without a trace, he took a break. In 1993, he staged a comeback with Pacchani Samsaaram when he was almost written off. With Varasudu alongside Nagarjuna, he reinvented himself and slowly graduated into supporting roles. With Number 1 (1994) and Amma Donga (1995), he proved that he still had it in him to deliver successful films. His fame started to dwindle after '95 with the new crop cementing themselves and once his younger son Mahesh took a plunge into full-fledged acting with Rajakumarudu (1999), Krishna was happy at his home enjoying a much-needed time off and see his son grow from strength to strength, while doing an occasional role here and there.

A darling of the masses and an emperor of openings during his heyday, Krishna's tales of helping producers who lost money on his films are legendary, as are his work ethics. From helping producers, whose earlier films with him didn't do well, with call sheets, distribution and finances, Krishna has always been a producer's man. Also, there are multiple instances where he didn't get his full quota of remuneration from his producers but that never let the man to sulk or complain to the registered film bodies. He just believed in working. While this nature of his did more harm to him than good on the professional front, the same nature, however, helped him find a place in the hearts of millions as they adored him for what he is personally. One look at the emotional tributes pouring in on TV channels from his co-actors of yesteryears indicates what kind of a man he was.
Krishna was conferred with an honorary doctorate in 2008 by the Andhra University. For his contribution to the Telugu film industry as an actor, director, producer and studio owner, he was awarded the Padma Bhushan in 2009 by the government of India. Physically he might not be present among us any longer but he will continue to live in the hearts of Telugu film lovers with his rich legacy.