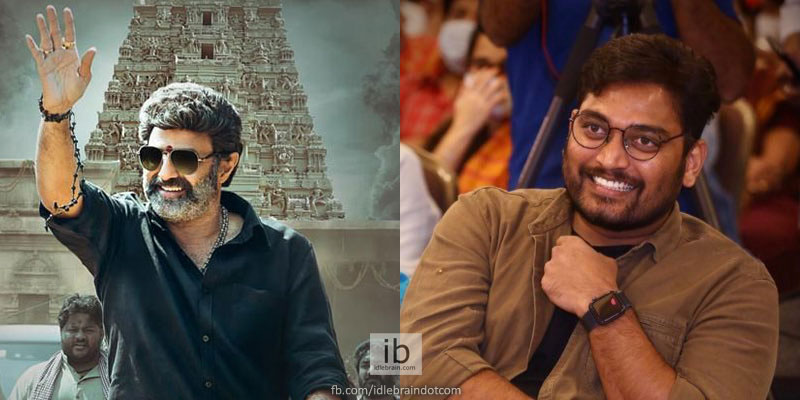 8 November 2022
Hyderabad

Venkatesh Maha, the man behind C/o Kancharapalem and Uma Maheshwara Ugra Roopasya, on Tuesday woke up to a report of him getting the consent of Nandamuri Balakrishna for his next project. The report comes in the wake of him openly expressing his wish to collaborate with Nata Simham at the pre-release event of Urvasivo Rakshasivo held in Hyderabad last week. "It's a cooked up story. I didn't pitch him anything," he tells us when idlebrain.com reached out to him.
But yes, he would love to collaborate with the darling of the dress circle. "If I could make a realistic film with him that would be a great start for many things I feel. Which is why I told him I'd love to work with him on stage that day," he adds.
Continuing further on the same topic, he goes on, "If I do a film with him, I'd love to make something which will give the audience an overwhelming experience once they leave the theatres. My writing has strong elements and if an actor of Balayya garu's caliber accepts it, there's nothing like it. If I get a call from him, I will definitely narrate my ideas to him."
On his part though, Maha is ready with a full screenplay, which he says has come out "beautifully". It's a psychological drama and Balayya will be amazing for it. It needs a little bit of body transformation though. There's a lot I want to discuss with the story. It's a vast topic which will be told in an understanding and entertaining fashion. It's a dark comedy as well," he shares.
Maha is on the search for a right set up to steer his vision. "I'm looking at a co-visionary for the project. It is not an easy topic to digest. It's happening around the world right now. People need to understand the vision behind the story instead of thinking about how much revenue it makes. Having said that, my films have always made revenue and this one too will make it. One should have trust in the vision I have for it," he reckons.
Maha admits to have grown up on Balayya's films. "Someone from Kerala interviewed me for a guide to Telugu cinema and I've mentioned Bhairava Dweepam and Aditya 369 in it. Those are courageous films for that time. I admire him so much for that reason. He made my childhood. I remember dancing to the songs of Bangaru Bullodu as a kid. He had a significant part in the whole journey of me coming into films. His Bhairava Dweepam especially; I don't think any other film has evoked an experience like it did in me during my childhood. He did films that nobody could've done," he points out.
Shifting focus to Su Mathi, which he announced in August of 2020, Maha reveals that he had to stop it back then due to the spread of COVID-19. "It needs to be shot with old people and I still feel it's not safe for them. Plus, it needs to be filmed entirely in New York. It's an ambitious project, so it will take time," he signs off.
-NAGARAJ GOUD