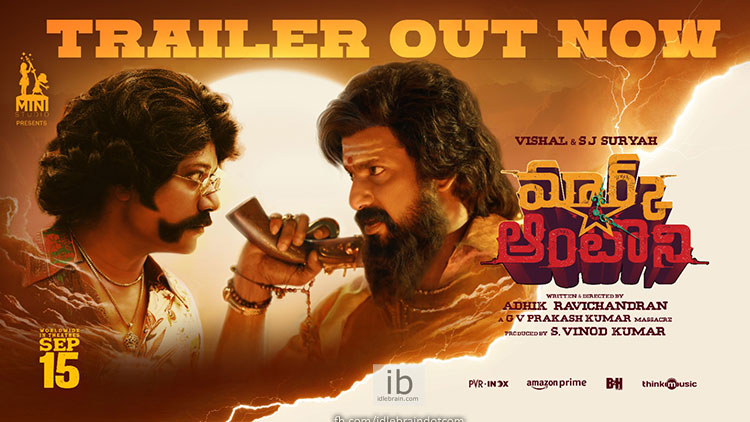 13 September 2023
Hyderabad

The trailer of Mark Antony, headlined by Vishal and SJ Suryah, was unveiled by the makers recently. Written and directed by Adhik Ravichandran, the film, a period science-fiction action comedy, is set to blaze into cinema halls on September 15.

The two-minute-51-second trailer begins with the flashes of different supporting actors like Ritu Varma, Redin Kingsley and Abhinaya etc before a voiceover introduces the world of Mark Antony. The '70s world is filled with riches, bloodshed and a lot of women with Vishal apparently playing a grey character, who is a playboy and a cut-throat gangster as well. He says he is a villain and will remain one. He has an equally ruthless friend in the form of a character played by SJ Suryah. Dressed in retro-fitting attires, they form a formidable duo together and are tough to beat, as they kill anyone who comes in their way mercilessly. They have their share of opponents and a character played by Sunil is one among them. He wants to see them dead. Things take a drastic turn when Mark (Vishal in a dual role) of '90s time travels through a telephone and connects to his father (Suryah). What happens next is seemingly told in a crazy fashion with genre-bending elements and characters from the old time frame popping in and out of the screen. The trailer is also peppered with an ode to yesteryear bombshell Silk Smitha, who is recreated using AI.

While the plot seems to be a little confusing– maybe that is the intention of the director– there's a lot going on in the trailer. Overall, it seems to have blended time travel with gangster elements, while promising a quirky and violent action entertainer with a pinch of humour. GV Prakash's lively background score complements the mood of the trailer well.