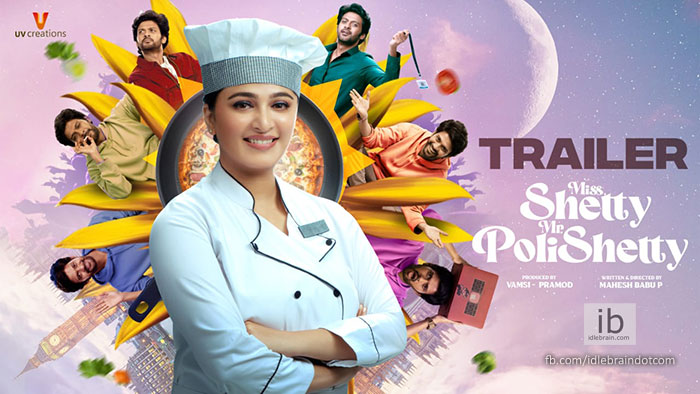 21 August 2023
Hyderabad

After missing the earlier launch date due to delay in post production works, the trailer of Anushka Shetty and Naveen Polishetty-starrer Miss Shetty Mr Polishetty, directed by Ra Ra Krishnayya fame P Mahesh, was unveiled at Prasads multiplex in Hyderabad on Monday.
The two-minute-29-second long clip opens with Sidhu (played by Naveen Polishetty) looking for a job at a London-set restaurant owned by Anvitha Ravali Shetty (Anushka). She doesn't believe in love and relationships but wants to be a mother without going through the due process of getting married. On the other hand, Sidhu, who completed his engineering and wants to be a standup comic, believes in committed relationships. His father (Murali Sharma) is dead against his ambition. Anvitha picks Sidhu to be the father of her child after falling in love with a stand up act of his. "Nizam cheppi navvisthunnadu. Practical and smart," she lauds about him. As Anvitha prepares for motherhood, Sidhu is dreaming of a future with her. However, he soon gets the shock of his life when he understands that she doesn't want marriage but rather wants his help in getting her impregnated. The rest of the trailer focuses on his predicament in helping her as differences crop up among the two.
Overall, the trailer, while being overtly verbose, is hilariously cut with a dash of emotions as well as it culminates. Both Naveen and Anushka are at the top of their game. While Naveen is oozing with quirky humour, Anushka is confidence-personified and full of grace, with the film promising to shed stories of two individuals who are in complete contrast to each other.
Produced by Vamsi-Pramod under UV Creations, the film, a Radhan musical, is scheduled to release in Telugu, Tamil, Kannada and Malayalam simultaneously on September 7.