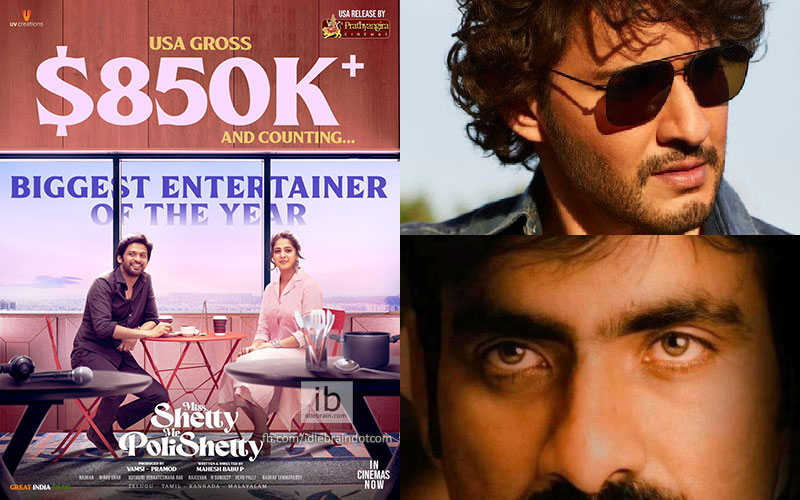 10 September 2023
Hyderabad

Accolades continue to pour in for Miss Shetty Mr. Polishetty, starring Anushka Shetty and Naveen Polishetty. After megastar Chiranjeevi and SS Rajamouli, the latest celebrities who have floored by the romantic comedy include superstar Mahesh Babu and mass maharaj Ravi Teja.

Both the actors took to X (formerly Twitter) to shower lavish praise on the last Thursday release, directed by P Mahesh Babu. On his part, Mahesh wrote, "#MissShettyMrPolishetty... A complete laugh riot… Thoroughly enjoyed it with the family… @NaveenPolishety is spot-on with his comic timing, and @MsAnushkaShetty was brilliant as always. Congratulations to @filmymahesh, @UV_Creations and the entire team on its success!!"

Replying to Mahesh, Naveen said, "Thank you sir @urstrulyMahesh. So so so happy that you loved #MissShettyMrPolishetty . I am over the moon inka memu yavaru padukomu ee excitement lo. also we are all madly waiting for #GunturKaaram."

Ravi Teja, on the other hand, wrote, "Had a great time watching #MissShettyMrPolishetty, @NaveenPolishety delivers yet another phenomenal performance with his great humour timing and @MsAnushkaShetty never disappoints. Big congratulations to @filmymahesh, @UV_Creations, and the entire team for the huge success."

Replying to Ravi Teja, Naveen wrote, "Thank you so much sir @RaviTeja_offl. I remember all your amazing insights the last time I met you . Thank you for inspiring me with your energy and performances always. Love you sir So happy to see you enjoyed #MissShettyMrPolishetty."

Miss Shetty Mr. Polishetty narrates the tale of a high-flying and happy being single chef Anvitha Shetty (Anushka) who wants to become a mother with the help of artificial insemination. She enlists the services of an aspiring standup comic (Naveen) for it and what follows is told in a humorous way with a touch of drama.