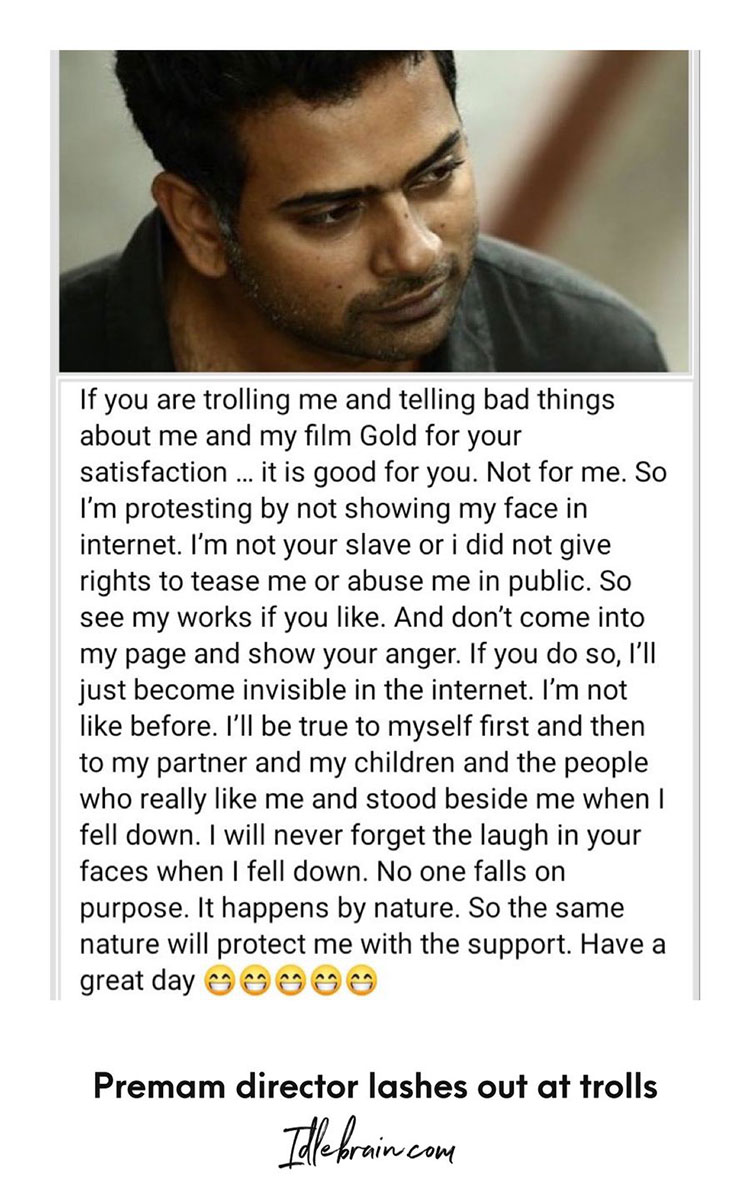 24 January 2023
Hyderabad

Premam director Alphonse Puthren has been at the receiving end of criticism, countless memes and trolling ever since his comeback film after seven years, Gold, starring Prithviraj Sukumaran and Nayantara, torpedoed at the turnstiles when it opened last December amid huge expectations. While he has hit out at critics and trolls earlier too, this time around he's protesting against such behavior by hiding his face on his Facebook profile page.
Taking to Facebook, he wrote that he is neither a slave nor did he give anyone rights to 'tease me or abuse in public'. "If you are trolling me and telling bad things about me and my film Gold for your satisfaction … it is good for you. Not for me. So I'm protesting by not showing my face in internet. I'm not your slave or i did not give rights to tease me or abuse me in public. So see my works if you like. And don't come into my page and show your anger. If you do so, I'll just become invisible in the internet," the director, whose bona fides include Premam and Neram, wrote on his FB page.
The director added that no one falls down on purpose; attributing it to nature, while simultaneously stating that the same nature will protect him. "I'm not like before. I'll be true to myself first and then to my partner and my children and the people who really like me and stood beside me when I fell down. I will never forget the laugh in your faces when I fell down. No one falls on purpose. It happens by nature. So the same nature will protect me with the support. Have a great day," he added.
Puthren will next direct Paattu, starring Fahadh Faasil.