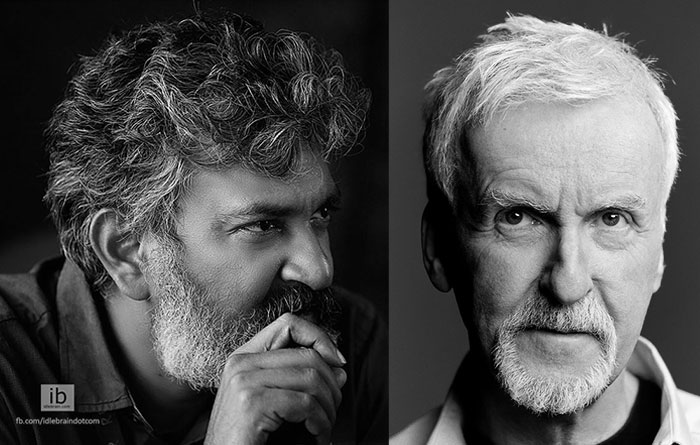 31 December 2022
Hyderabad

James Cameron has returned to the silver screen after a 13-year hiatus with Avatar: The Way of Water. Under 15 days, the sprawling epic action adventure has amassed more than $ 1 billion in global ticket receipts. In a recent interview with empireonline.com, the decorated filmmaker, whose other bonafides include blockbusters like Terminator 2 and Titanic, was asked by Hollywood heavyweights the questions they always wanted to ask. While some them include the likes of Harrison Ford, Pierce Brosnan, Robert Rodriguez, Hans Zimmer, Guillermo Del Toro, Edgar Wright, Rian Johnson, Mads Mikkeson and Jane Campion, our very own SS Rajamouli, who made the West sit up and take notice of explosive talent with RRR, also proved to the lucky one.
The question of Rajamouli is as follows: "You have spent about 25 years in the world of Avatar... I am sure you will have many more stories/ideas that you want to tell. Do you ever feel bad, that you are not able to tell them?" Responding to it, Cameron replied, "Hi, S.S. Two thoughts in answer to your question: the first is that the world of Avatar is so sprawling that I can tell most of the stories I want to tell within it and try many of the stylistic techniques that I hope to explore. And secondly, yes… our time as artists is finite. I will always mourn some of the stories that I don't get to make. But I feel a great satisfaction when other directors want to explore some of my ideas, like Kathryn Bigelow did with Strange Days, and Robert Rodriguez did when I passed him the baton on Alita: Battle Angel. I look forward to more collaborations in the future with directors I admire."
From brushing shoulders with eminent personalities like JJ Abrams, Peter Weir and Michael J Fox to now getting to ask Cameron a question, Rajamouli seems to be the toast of Hollywood right now.