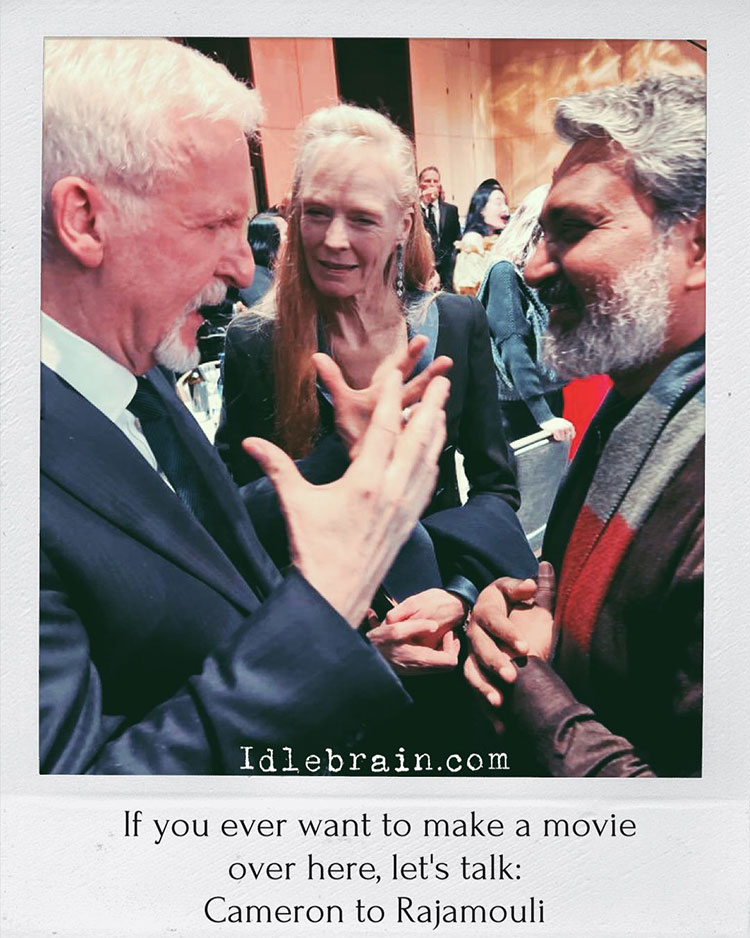 21 January 2023
Hyderabad

After sharing a glimpse of the conversation between James Cameron and SS Rajamouli last week, the makers of RRR on Saturday dropped a new video that gives a closer look at the chat that transpired between the two heavyweights of filmmaking at the Critics Choice Awards in Los Angeles, USA.
Breaking down RRR, which he watched multiple times, the Hollywood filmmaker said, "Now watching all your characters, it's just such a feeling to watch your characters. And your setup (of) the fire, water, story, reveal after reveal, then moving on to the back-story of why he's doing what he's doing, the twists and turns and friendship. It's just so powerful."
Effusive in his praise for Rajamouli, Cameron, whose bona fides include Terminator 2, True Lies, Titanic and Avatar, added, 'You can only imagine, what it must be like. Everything that goes behind the movie making process. Because of all the work and your passion you've put in... all that must be yours. All of them must be surprised, your audience back at your home. And I'm sure this must be a bonus one for you. What you must be enjoying today, the world encounters it."
He described RRR as a complete entertainer. "I love the fact that you just threw the whole thing out, it's just the full show…I love that. I can only imagine the pride and power your country and your home audience feels…you must feel on top of the world."
Cameron also showered praise on the film's music. "The score, it's kind of amazing. Because I like the music to kinda stay out of the way and kinda come on in and support when the audience is already feeling something so it builds the theme. But you are using the music very differently," he noted.
Responding to Cameron, Rajamouli, clearly in awe, said, "These words from you are more than an award to me. I mean I can't believe that you saw the film and that you're analyzing my film."
As he was about to conclude the speech, Cameron leaned in close to Rajamouli's ear and said, "And one thing…if you ever want to make a movie over here, let's talk."