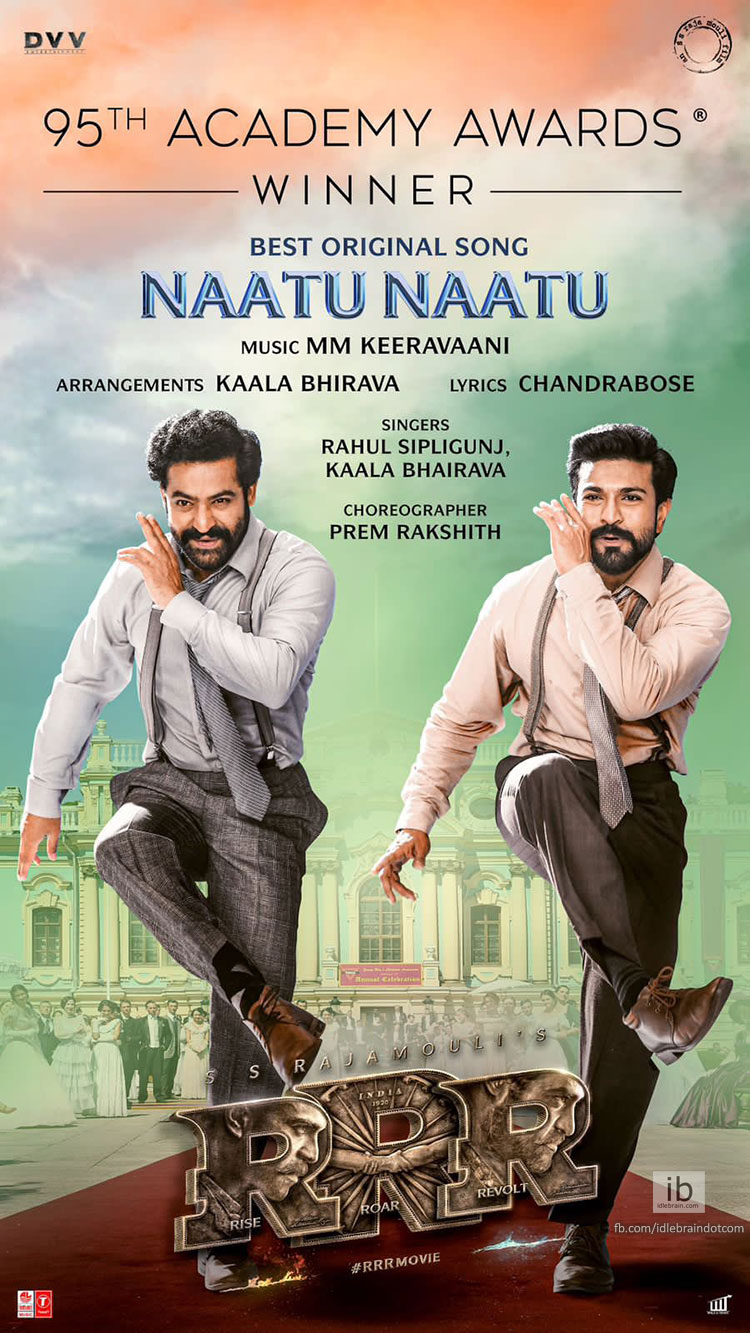 13 March 2023
Hyderabad

As billion hearts were wishing and praying in anticipation on Monday morning, RRR has achieved its crowning glory–the Oscar– in the Best Original Song section, drawing cheers from Indian fans, who glued to TV and streaming platforms early on in the morning, from India and world over. Composer MM Keeravani and lyricist Chandrabose were handed over their statues as RRR corner in the Dolby® Theatre at Ovation Hollywood, cheered, whistled and clapped in unison. While odds were heavily in favour of Naatu Naatu in the run up to the Oscars ceremony as the song was honoured in every precursory ceremony, including the Golden Globes, one look at the resume of the singers vying for the prime prize meant that it could've gone either way. In the end, Naatu Naatu edged out a list of hugely popular numbers and names such as Lady Gaga's Hold My Hand from Top Gun: Maverick, Rihanna's Lift Me Up from Black Panther: Wakanda Forever, This Is A Life from Everything Everywhere All At Once, and Applause from Tell It Like A Woman to scoop the honour.

In his acceptance speech, Keeravani said, ''Thank you, Academy. I grew up listening to carpenters and now here I am with the Oscars." Singing along to the tune of Carpenters' 1970s song On Top of the World, he said, "There was only one wish on my mind, so was Rajamouli's and my family's. RRR has to win, pride of every Indian and must put me on the top of the world. Thank you Karthikeya and Variance Films for making this possible. Love you all, thank you." Song's lyric writer Chandrabose, on the other hand, just said "Namaste" before concluding.

So what is about the joyous song– rendered by Kaala Bhairava and Rahul Sipligunj–, whose fame transcended international borders, inspiring thousands to ape its signature moves on TikTok, Instagram and other social-media networks? The jaw-droppingly stunning song, with addictive chorus, propulsive beat and synchronized choreography, was shot at the Mariinskyi Palace, Kyiv, Ukraine, a gorgeous sea-blue structure, in the August of 2021 – before the onset of the Russia's invasion– and a few have swept up audiences like it. Film's writer-director Rajamaouli conceived it as a kind of fight sequence in which the Indian duo outdances their British counterparts and was also keen to show the dancing prowess of his duo. "I think the biggest achievement for me was incorporating how the song comes into the film, without breaking the narrative," he had said.

Rajamouli wanted moves "that would look great with two people doing it together, but not so complicated that no-one could do it." Dance master Prem Rakshith made 30 versions of the hook step. The song was filmed over two weeks, with 50 dancers and nearly 400 extras participating. The filming went for 12 hours every day. Tarak and Charan, both nimble-footed, danced their hearts out, pulling out some unbelievable moves and moving out like mirror images in the process while using suspenders as props. Encouraged by Bheem's (Tarak) love interest Jenny (Olivia Morris), the song culminates in a fierce dance off and as group dancers and extras collapse one by one due to the rigor, the two heroes stand firmly on their feet. In the end, they take on each other to crown the last man standing. Until February of 2022, the song crossed over 200 million views on YouTube in all languages.

But what does Naatu Naatu mean?
"Naatu means ethnicity, ethnic," Keeravani told Reuters. "Whatever I do is purely mine. It's my own experience; it's my own way of expression. These are my words, this is my style, look at me, and this is who I am." Chandrabose had a different interpretation of the meaning. He said, "Naatu means raw and rustic." He added, "Everything I wrote in the song is from my childhood memories of my life and my parents. That's why I created it very fast." Per the lyricist, he wrote 90% of the song in half a day but it took 1.7 years to write the remaining 10%. Keeravani likened the sound to the traditional beats of folk songs in Indian villages. He used duffs, an Indian skin drum, for the instrumentation. The song features a 6/8 beat popular in South Indian music.

So, what does this Oscar mean to Telugu filmmakers? With Baahubali, Rajamouli breached the north frontier, showing Telugu filmmakers that there is a significant market out there that can be tapped and milked if you think big and bold. A few Telugu films have done that after Baahubali. With the Oscar, he has laid the platform for our makers to think bigger and better. It's up to his colleagues– cutting across crafts–now on whether they want to walk, jog or sprint on the platform. After all, it's not every day one wins an Oscar and if you win one, the next step is to consolidate and have a crack at the ceremony consistently with your skills and content. Telugu cinema, sure, has the potential and talent. Onwards and upwards!