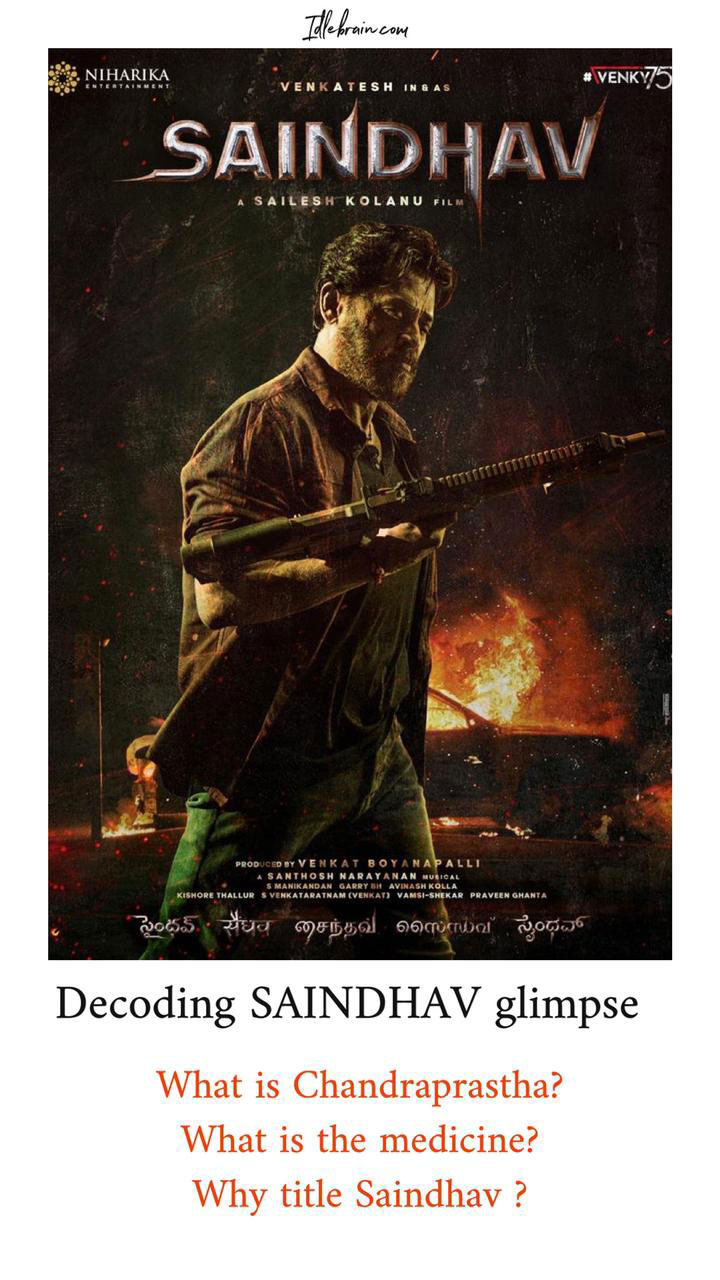 25 January 2023
Hyderabad

For those who have seen the glimpse of Saindhav, there are three questions that intrigue them. Sailesh Kolanu who has mastered the art of clues, has left three clues to these questions. Here is what we can decode from the glimpse -
What's Chandraprastha?
Chandraprastha seems like a fictional city like Indraprastha (Delhi from old times). It's supposed to be a port city in South India. If you look at the number plate of the hero's bike (CP 13 SK 9009), you can read letters CP (which reads like ChandraPrastha). CP is not allocated to any vehicles in India (hence , its fictional).

What is this medicine?
You can read "Onasemnogene Abeparvovec" on vial. It's a medicine used for Spinal Muscular Atrophy. It's one of the costliest medicines in the world. Each vial costs around $2.125 Million (Rs. 16.5 crores). It's a medicine that's used for kids below 5 years. It provides a new copy of the gene that makes the human SMN protein. From this we can infer that Sandhav is fighting against some mafia to procure/protect this medicine. Since it's a medicine for kids, this could be medicine for his kid.

Why is the protagonist named Saindhav?
Saindhavudu is a character from Mahabharatha who is infamously known for abducting Draupathi. He is also known as an unstoppable force who stopped 4 of Pandavas from entering Padmavyuham. That's why this adage 'saindhavudila addu paduthunnav' became very popular. On the other hand, all citizens of Sindhu valley are called Saindhavas. Director Sailesh might have named Saindhav because he is unstoppable. Probably there are some gray shades to the character of the protagonist as well.
Saindhav is a detour for Sailesh Kolanu who is building the HIT franchise. First two installments were hits. Now he started Saindhav in a fictional city of Chandraprastha. Could it be the beginning of another franchise based on Chandraprastha (Like Gotham for Batman?)