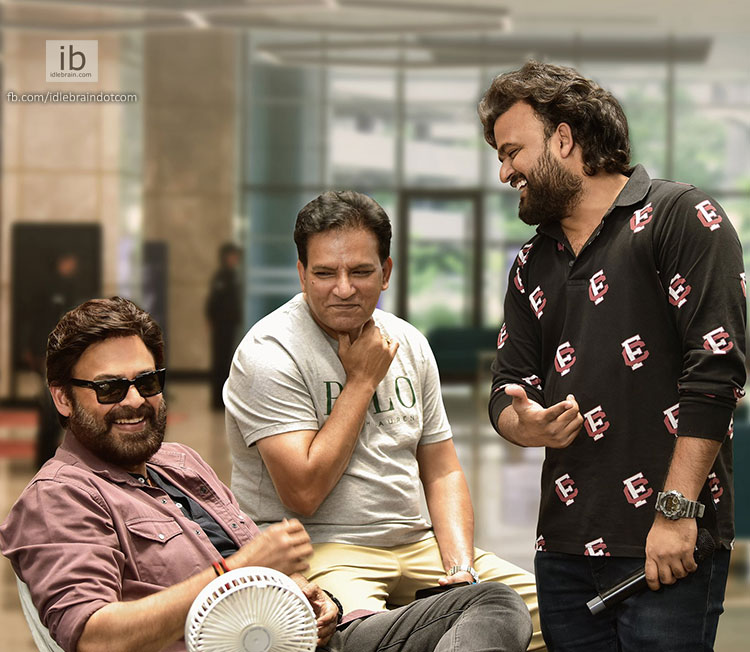 1 September 2023
Hyderabad

The filming of victory Venkatesh-starrer Saindhav, written and directed by HIT franchise helmer Sailesh Kolanu, is in the last leg. A high-octane action and emotional drama, the film is a production venture of Venkat Boyanapalli under Niharika Entertainment, while Tamil musician Santosh Narayanan is scoring the music. It is being made on a massive scale with a lavish budget and is believed to be the costliest film of Venky's storied career. After shooting in Bidar and Nagarjuna Sagar recently, the unit will now travel to Sri Lanka for what is probably the last major schedule of the film. "The new schedule of 18 days will begin in Sri Lanka on September 4. We will be shooting talkie portions, action, montages etc in this leg. It will be followed by work of four days, with which we should call it a wrap. Of the four days, two days are reserved for a chase sequence under the supervision of Peter Hein master and the other two for patch work," Sailesh begins in an exclusive conversation with idlebrain.com.

Saindhav is Venky's prestigious 75th film of his career and naturally there is a great deal of buzz and anticipation around it. Sailesh considers the opportunity as huge and is "super elated". "Venky sir is such a veteran actor and he has given me a chance to do his 75th film. I consider it as a huge responsibility on my shoulders and I'm giving it my best shot. I'm enjoying the process, as he is such a cool actor to work with. I'm learning a lot from him and every day is exciting," the director asserts.

He admits Venky is surprising him as a performer every day. "As an actor with such immense experience, there is no need of actually telling him what to do or how to do it. Once he reads the script, he knows how to perform. Except for little nuances here and there from my end, what shot has he not seen in his life? He is very spontaneous as an actor and produces a lot of things in a moment. Just like that. He waxes philosophical about it, saying it's like a blessing. He considers it like some energy coming into him and giving it. It's been a different and amazing experience working with him," Sailesh marvels.

Effusive in his praise for Venky, the director continues, "He is the one who breaks ice most of the time on set. We are all stressed about something and Venky sir walks in, cracks a joke and everyone's mood changes for good. We start working with energy again and it happened so many times. Apart from the sets, Venky sir and I make sure that we catch up every day for 30-45 minutes. We revise through what we shot; see how the film is shaping up and see what more can be done to make it better. It's such a nice feeling to have someone who is involved with the film."

The film also features a slew of prominent faces like Nawazuddin Siddiqui, Arya, Shraddha Srinath, Andréa Jeremiah and Ruhani Sharma in supporting roles. Isn't it tough to handle such a wide ensemble? "I'm working with really big actors but surprisingly it doesn't feel like that because everyone is so chilled out. There are no tantrums, nothing. Everybody is working for one purpose – to give Venky sir a movie that will be remembered for a long time. I didn't have to go through the hassle of handling anyone. Also, they are actors who go out of their way to give a great shot and that's precisely why I got them on board. The experience has been pretty smooth so far. Touchwood I don't want to jinx it as I still have another 20 days to shoot," he beams.

Sailesh intends to wrap up the complete film by October first week, giving him a good 50 days for post-production (the film opens on December 22). "We have started post-production simultaneously. A film of this magnitude, there is a lot of post-production work that needs to be done as it contains a lot of action and CG works. So whenever we are shooting, we are locking the edits of those chunks. Of course the final edits will take time but before that there's a lot you can do, right?" Sailesh points out.

Venky is known to be extremely spiritual in life and is it rubbing on him? "To be honest, I'm also spiritual. That's probably why we gelled very well. For my age, I'm pretty much in the same line as Venky sir with respect to my outlook towards life. A lot of philosophical views aligned between me and sir. We don't take our lives seriously. We are in the moment, having fun and enjoying the process. We are process-oriented, not result-oriented. That is the reason energy levels are very high on the sets," Sailesh concedes
-NAGARAJ GOUD