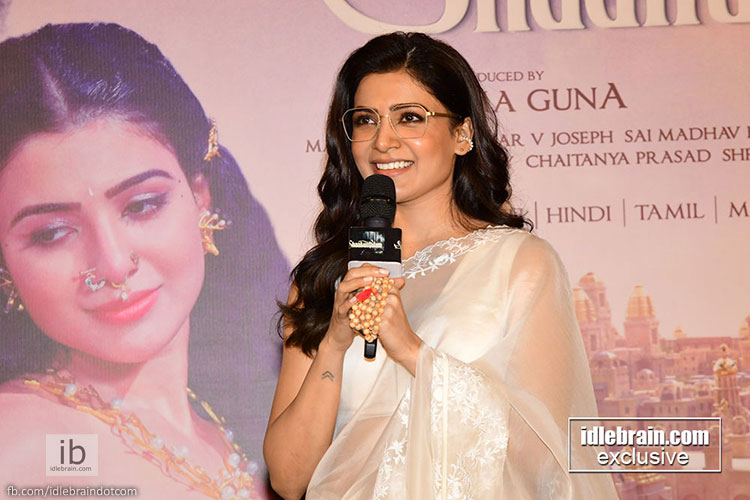 9 January 2023
Hyderabad

Samantha, who hasn't been stepping out much due to her health condition Myositis, made an exception for the trailer launch of Shaakuntalam, which she headlined along with Dev Mohan (of Malayalam) fame, on Monday in Hyderabad.
Sam was happy with the response the trailer evoked at PVR Cinemas, Banjara Hills, where it was played. "We've been waiting for this moment for a long time. Huh! We are happy with your response. My respect and admiration for Gunasekhar garu meant that I derived strength from my inner self to come here. For some, cinema is a part of life, for Gunasekhar garu, cinema is life. He does every film with all his heart. And he did Shaakuntalam with all his heart as well. I wanted to see the appreciation and love he gets for the trailer first-hand and that's why I came here," she said.
She added, "When you hear the narration, every actor wants the vision to come alive like the narration. But only a few times the vision exceeds your imagination and some extra magic happens. After watching this film that's exactly what I felt. It is so much more than what I expected. I was so happy that I fell at Gunasekhar garu's feet and said thank you."
Samantha also thanked Dil Raju for trusting the project and pumping money into it without considering "any calculations". "I saw a passionate producer above all else. He wanted to do a good film," she noted.
Speaking about her co-star Dev Mohan, she said with a smile, "After the first day set up was ready, I saw the reaction among the girls on sets, to realize that we got the perfect Dushyanth."
Based on Kalidasa's acclaimed fifth century Sanskrit play Abhijnana Shakuntalam, Shaakuntalam heads into cinemas on February 17. "I consider myself lucky to be selected for the part. It is truly my privilege. Irrespective of how many struggles I faced, one thing never changed in my life: how much I love cinema and how much cinema loves me back. With Shaakuntalam, I hope and believe the love will increase more," she concluded.