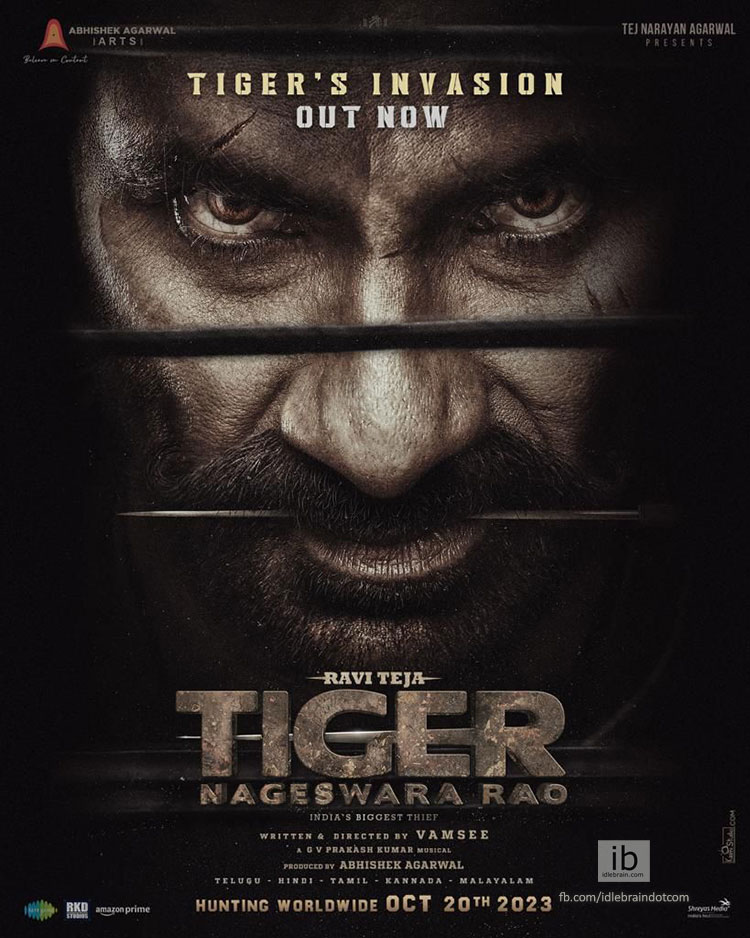 17 August 2023
Hyderabad

On Thursday, production house Abhishek Agarwal Arts dropped the teaser of their ambitious Tiger Nageswara Rao, headlined by Mass Maharaj Ravi Teja. "TIGER'S MENACING INVASION BEGINS," they wrote, attaching a link to the teaser in different languages.

The one-minute-22-second clip opens with Stuartpuram thief Tiger Nageswara Rao who committed robberies in Hyderabad, Bombay and Delhi among other places fleeing Madras Central Jail, which no prisoner had breached until then. Delhi police assigns the job of nabbing Tiger to cop Viswanath Sastry (Murali Sharma). Per Sastry, "If Nageswara Rao had forayed into politics; he would've won the polls with his intelligence. Had he been into sports, he would've won a medal for India in athletics with his run. Had he enrolled in the army, he would've won a battle with his courage. Unfortunately, he has become a criminal." He further says that Nageswara Rao got into crime at the tender age of eight. Director Vamsee shows flashes of Ravi Teja wielding different weapons and neutralizing his opponents before finally revealing him in a close up amid smoke. It ends with Nageswara Rao audaciously leaping onto a moving train from a bridge with the help of rope and hook.

Overall, the trailer looks simply magnificent and it's obvious that a great deal of effort and attention has gone into the making of the film. Vamsee and lensman Madhie manage to effectively transport the viewers to the period gone by with their use of different hues, while Ravi Teja seemed to underplay the part, talking more with his eyes. Commanding a great screen presence, it looks like a role he hitherto never played in his career and seemed to have absolutely nailed it.

Nupur Sanon and Gayatri Bharadwaj are playing the leading ladies in the film, a GV Prakash musical. It storms into cinemas on October 20th.