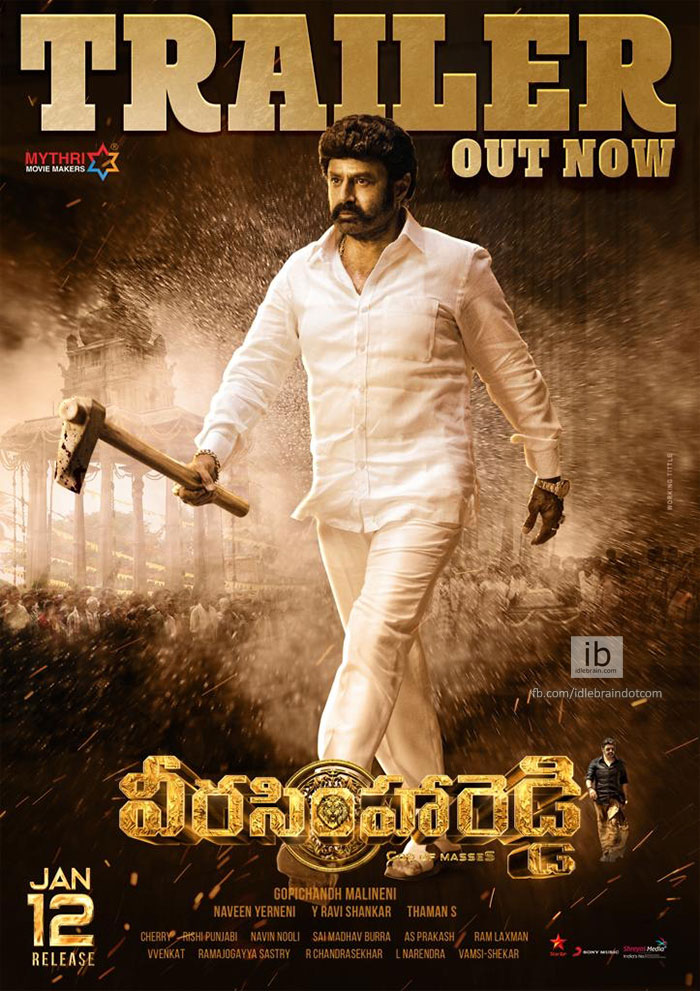 6 January 2023
Hyderabad

The trailer of Natasimham Nandamuri Balakrishna-starrer Veera Simha Reddy was released at a gala event in Ongole on Friday.
In true Balayya style, the trailer begins with a powerful dialogue: Seema Lo Evokkadu Kathi Pattakudadani Nenokkadine Kathi Patta, Parapathi Kosamo Pettanam Kosamo Kadhu, Mundhu Tharalu Naakichchinaa Bhadyathaa, Naadhi Faction Kadhu Seema Midha Affection. The hero's elevation is at its peak as cameraman Rishi Punjabi captures the proceedings lavishly with his sprawling shots, while also focusing on getting the rugged Seema terrain right. Veera Simha Reddy is shown as someone who is ready to kill anyone who wants to thwart peace in the region– either with weapons ranging from a hammer to a machete or with his dialogue. Younger Balayya is introduced next, with dance and music following soon after. Malineni once again shifts attention to the ferocious side of VSR, indicating the role's prominence in the scheme of things, as other characters like Ravi Shankar, Naveen Chandra, Varalaxmi Sarathkumar and Duniya Vijay are introduced one after the other. There's an obvious political reference as well, with the younger Balayya reeling the dialogue: Santhakalu Pedithe Boardu Midha Peru Maruthundemo, Kaani Aa Charithra Srusthinchina Vaadi Peru Maaradhu, Marchaleru (read NTR health university renamed). Not just action and dialogue baazi, the film seems to be high on emotional quotient as well, as the finale portions of the trailer denote. It concludes with another high-voltage dialogue, reminding the viewers the interaction Balayya has with a New Delhi-based politician in Legend.
A commercial action drama laced with an emotional touch, Veera Simha Reddy, set in faction backdrop, opens in cinemas on January 12. It's a Mythri Movie Makers production.