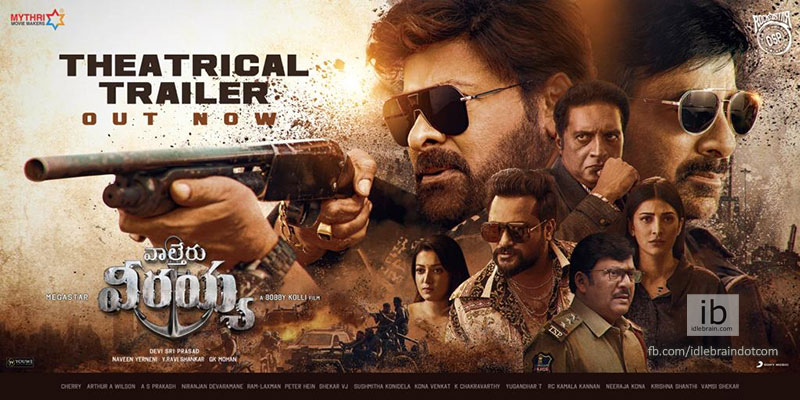 7January 2023
Hyderabad

Director Bobby Kolli is bringing two big stars- Megastar Chiranjeevi and Mass Maharaja Ravi Teja together with the most anticipated movie Waltair Veerayya which is getting ready to strike hard in theatres from 13th of this month. The makers dropped the theatrical trailer of the movie to increase our excitement to watch the movie in cinemas.
The trailer begins on a gripping note with the Raw department bringing an international criminal for one day of custody in a police station. The entire department is asked to be alert because he's a dangerous smuggler, a popular khaidi (prisoner) in the department's database, and finally he's no less than a monster. Then makes Chiranjeevi enters in a mass way standing on a wooden boat in a storming sea and lighting beedi. The build-up, followed by Chiru's entry together indicates the kind of mass frenzy around his character. But that's not all. The next episodes show Chiranjeevi in his comedy best. When many gangsters are after Waltair Veerayya, Ravi Teja is introduced as ACP Vikram Sagar whose mission is also to catch Veerayya and his men. This is a perfect conflict for a mass masala movie.
Every dialogue is whistle worthy. Here are some samples:
* Mass Ane Padaniki Boddukosi Perettinde Aayanni Soosi
* Mee Kathaloki Nenu Raalaa… Naa Kathaloke Meerandarocharu… Meeru Naa Era… Nuvve Naa Sora…
* Vizag Lo Gatti Vetagaadu Ledani Oka Puli Poonakaalatho Ooguthundata…
* Records Lo Naa Perundadam Kaadu Raa… Naa Peru Meede Records Untai…
* Ee City Ki Neelanti Commissioner Lu Vasthuntaaru Pothuntaaru… Kaanee Ikkada Veerayya Local…
Chiranjeevi is at his usual best in action as well as in hilarious scenes. He brings that special charm to the character and narrative with his mass aura. Ravi Teja is equally good as the cop and the face-off between the two is the major asset. Bobby has presented both stars amazingly and his writing as well as taking are marvelous.
Arthur A Wilson's cinematography, Devi Sri Prasad's re-recording work and Niranjan Devaramane's editing are in tandem to give us some amazing frames and sound effects.
The ambitious project of Bobby Kolli is made on a high budget and every frame looks slick and grand. The film is produced on a grand scale by Naveen Yerneni and Y Ravi Shankar of Mythri Movie Makers, while GK Mohan is the co-producer.
AS Prakash is the production designer, while Sushmita Konidela is the costume designer.
While the story and dialogue were written by Bobby himself, Kona Venkat and K Chakravarthy Reddy penned the screenplay. The writing department also includes Hari Mohana Krishna and Vineeth Potluri.
Waltair Veerayya is set for a grand release worldwide on January 13th as Sankranthi special.
Cast: Chiranjeevi, Ravi Teja, Shruti Haasan and others.
Technical Crew:
Written & Directed By: Bobby Kolli (KS Ravindra)
Producers: Naveen Yerneni and Y Ravi Shankar
Banner: Mythri Movie Makers
Music Director: Devi Sri Prasad
DOP: Arthur A Wilson
Editor: Niranjan Devaramane
Production Designer: AS Prakash
Co-Producers: GK Mohan, Praveen M
Screenplay: Kona Venkat, K Chakravarthy Reddy
Additional Writing: Hari Mohana Krishna, Vineeth Potluri
CEO: Cherry
Costume Designer: Sushmita Konidela
Line Producer: Balasubramanyam KVV
Publicity: Baba Sai Kumar
Marketing: First Show