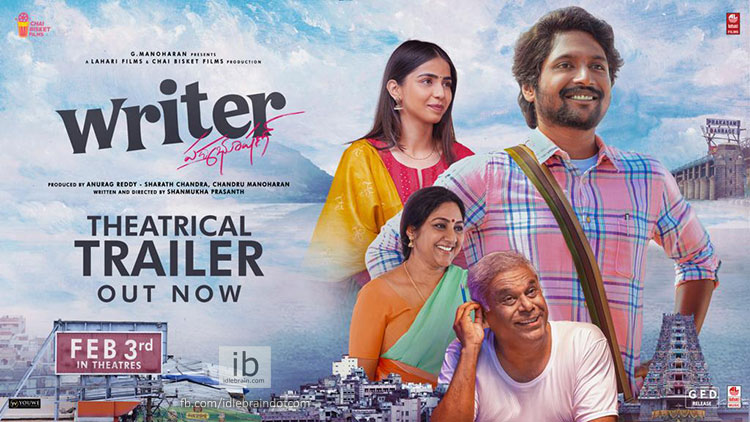 20 January 2023
Hyderabad

A trailer's main purpose is to increase the curiosity around the film and make the viewers wait for its release. Suhas-fronted Writer Padmabhushan, a joint production venture between Chai Bisket Films & Lahari Films Production, does that effortlessly.
Set in the backdrop of Vijayawada city, which looks to be another character in the film, the trailer introduces Padmabhushan (Suhas), an assistant librarian who wants to make it big in the Telugu literary world. Ashish Vidyarthi and Rohini Molleti play his middle-class parents and they seem to have added gravitas to the proceedings with their wealth of experience. Padmabhushan realizes his dream of publishing a book, Tholi Adugu, by taking a loan at 3 percent interest. To his shock though, not a single copy is sold, making him dejected and frustrated. He takes it upon himself and distributes the book free of cost to people in the hope they will realize his skills with the pen. Soon, a key twist seems to turn his life upside down. The trailer is also sprinkled with a dash of romance as newbie Tina Shilapraj keeps it absolutely natural, while the lively background score elevates its appeal further. Overall, it packs a punch and within two and half minutes takes you on a rollercoaster ride of emotions peppered predominantly with situational humour.

Written and directed by debutant Shanmukha Prasanth, the film opens in cinemas on February 3rd.