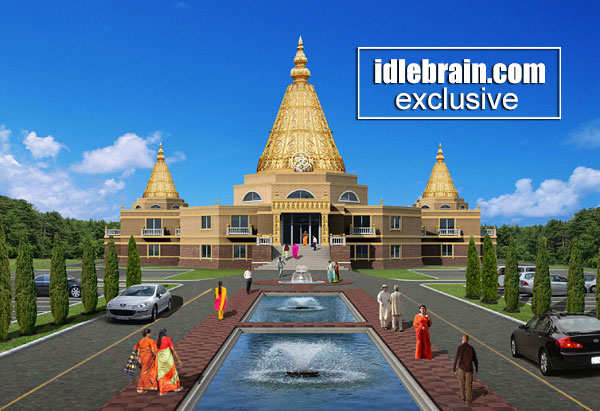 To feature your NRI communty news in idlebrain.com, please mail us at [email protected]
09 January 2015
Hyderabad
New England Shirdi Sai Parviaar, known as NESSP, purchased 28 acres of land in Groton, MA for constructing Shirdi Sai Temple. When completed it will be a 2-story, 40,000-square-foot temple and it will become the largest Sai temple in the United States.
NESSP has received all the permits from the town to build the permanent Shirdi Sai Temple and Mission Center
NESSP is pleased to announce that with Baba's grace and blessings, on New Year's Day Jan 1st 2015, secured an additional $1.7 Million dollars through pledges thereby bringing our total funding well over $5 Million dollars mark!! This historic moment, coupled with NESSP securing the necessary building permits marks the initiation of the beginning of the construction phase of the temple. As we get started, we will keep everyone posted on the construction phases. We feel truly blessed that Baba has showered his grace to enable us to embark on this initiative and start the construction phase for the project this year!
As our overall vision for this temple complex gets realized, it also offers each of us an opportunity to be associated with this blessed project. We encourage those who haven't had the opportunity to participate in their support to do so as the project gets underway and sincerely thank those whose support enabled us to get to this historical milestone. Let us all take this historic moment to be Baba's directive to realize this vision of a permanent, unique Shirdi Sai temple in the New England area.
Please come forward and be part of this project. There are various options and most popular one is "Divine Leaf"
In the new temple NESSP will permanently embellish Divine Neem Tree which consists of 1008 leaves with the names of the donors. We believe the divine tree at our temple will bring in lot of blessings from Baba to all of us. It is also a great way to honor your family members as their names will be engraved on the walls of largest Baba temple for generations. We request our devotees to avail this opportunity and part of this holy yagna.
Details of Divine Tree program:
· The Divine tree will be permanently embellished on the temple wall in the temple
· The tree will have a total of 1008 brass leaves
· Each leaf will be etched with one or two names of the donor family
· Each donor can donate $1,116.00 or higher for a leaf
· There are different payment options for your convenience
· All Donations towards this project will be TAX Deductible*
· Donors can also sponsor a class room or any other temple prayer halls. For additional detail please email to [email protected] or call 1-978-528-1985
Our goal is to establish the presence of a permanent Shirdi Sai temple phase one in 2016 and phase 2 by 2018 in concert with the centennial celebration(100 years) of Baba's Mahasamadhi. Your support and help is greatly appreciated towards this auspicious project.

NESSP is an independent local organization that has been serving the devotee needs for last nine years. In addition to temple related activities, NESSP also believes in helping the community that its part of. The organization has an active Charitable and Philanthropy charter. The different charitable activities NESSP has undertaken in the past are: Disaster Relief, Annadaan (food donation) to the homeless, Winter Clothes drive - Collection and distribution of warm winter clothes to the needy, Red Cross Blood donation drives, Lowell General hospital cancer center walks. NESSP is run by a dedicated team of volunteers.