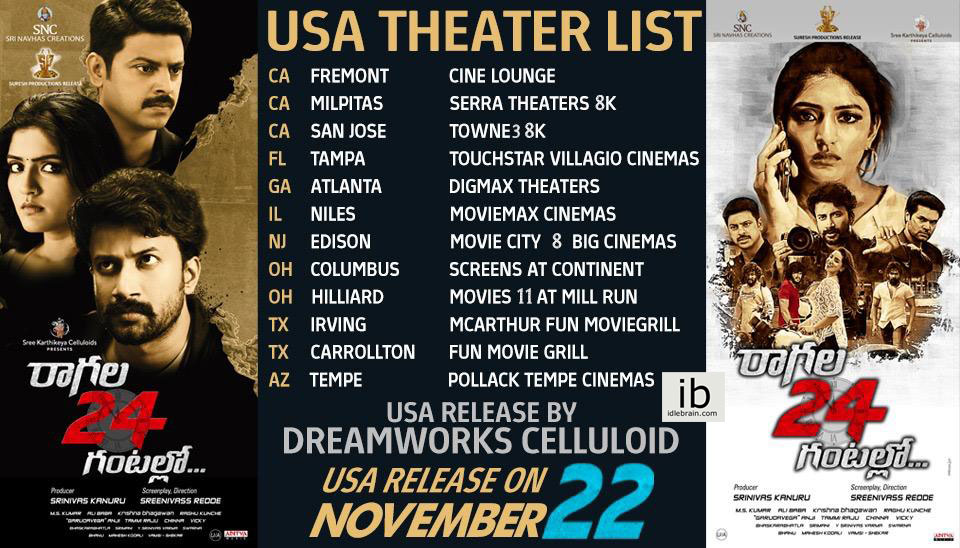 Ragala 24 Gantallo, is an interesting title, which sets the context that the movie will be showing what is going to happen in the next 24 hours, thus promising a racy and interesting screenplay which will grip the audience.
Telugu beauty Eesha Rebba has got a meaty role in this intriguing murder mystery. She said that her character in this gets to portray many shades from being a caring wife, a naughty girl and a prime suspect in a murder.
SatyaDev who is winning hearts with his style, ability to adapt into diverse roles and dialogues is appearing in this movie in a completely different role.
Raghu Kunche has scored music for this, Nee Nagumomuki Namo Namo has become an instant hit and the catchy tune is making everyone hum this song. https://youtu.be/bFffoPfaMNE
Director Sreenivass Redde who is well known for his comedy movies, has shifted gears once in the past to deliver the then blockbuster Dhamarukam with Akkineni Nagarjuna garu, has once again come up with an intriguing title and an interesting suspense plot with Ragala 24 Gantallo.
This film is being produced by Srinivas Kanuru under Sri Navhas Creations. Also Sree karthikeya Celluloids is presenting this movie.
Here is the plot synopsis in his words, When ACP Narasimha starts an investigation on Rahul's murder case, it is revealed that Rahul's beloved wife, Vidya, was guilty. But, what provoked her to kill her devoted husband? One thing is clear: Vidya is hiding something. With growing suspicions and an unending maze of murder mystery, a secret reveals which turns everyone's lives involved upside down.
This movie overseas release is being done by Dreamworks Celluloid.
For any more details please contact [email protected] or Naveen 949-395-3606.