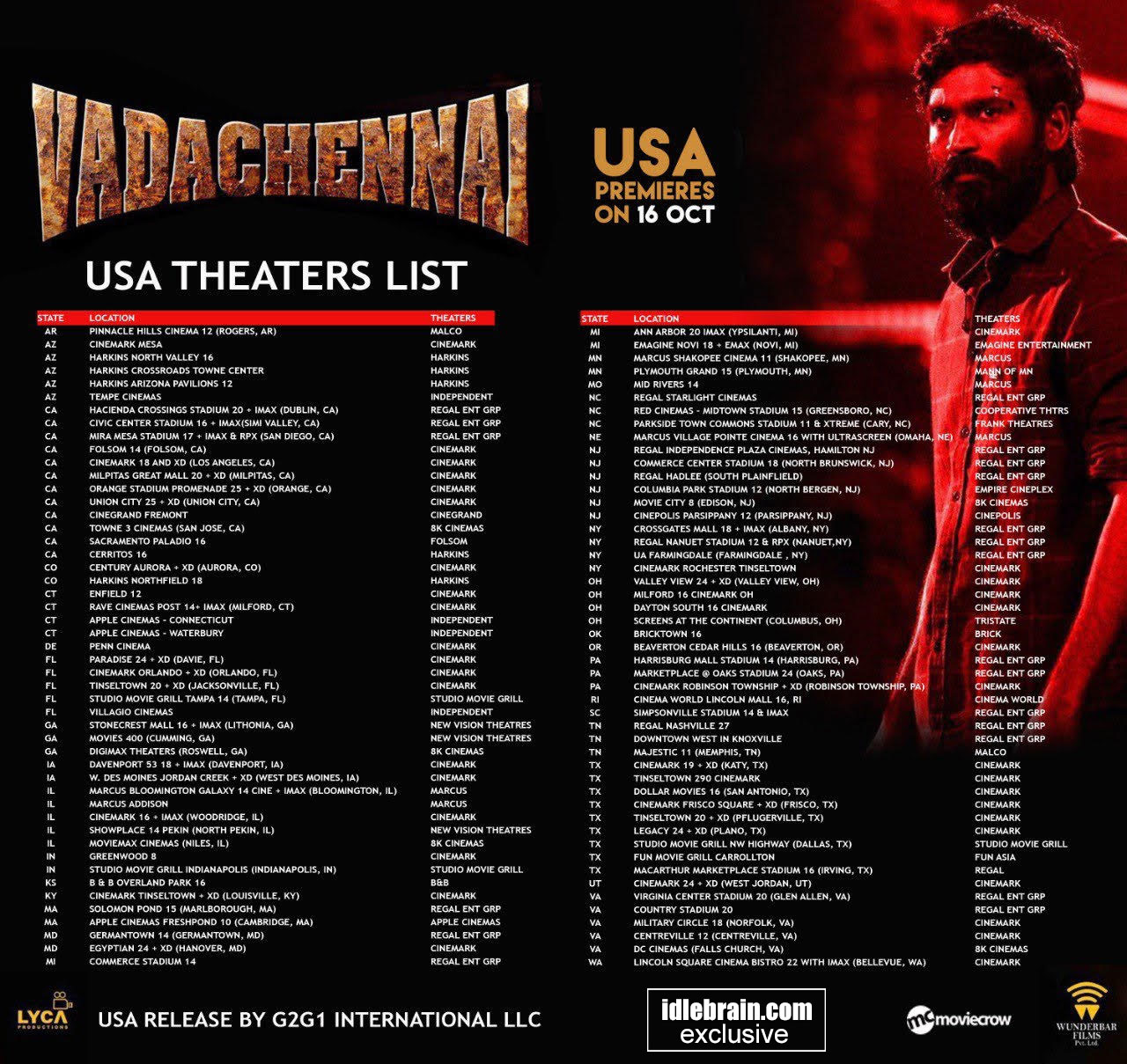 G2G1 International LLC would like to thank the patrons for the overwhelming response for our maiden venture Kolamaavu Kokila and then making Chekka Chivantha Vaanam a Blockbuster in USA. We are now proudly presenting our next flick Vada Chennai (North Madras) produced by Wunderbar and Lyca Productions.
Vada Chennai is set to have its world premiere in Prestigious Pingyao International film festival (PYIFF) held in Pingayao, Shanxi, China. Movie features two Time national award winner Dhanush who recent made his international debut in French -English comedy Extraordinary journey of fakir as the lead supported by Andrea, Aishwarya , Amir and Kishore. Original soundtrack is composed by Santhosh Narayanan (Madras, Kaala, Kabali) and songs are topping all charts.
Vada Chennai is directed by national award winner Vetrimaran whose previous movie Visaranai (Interrogation, 2015) had won several international awards including best feature film in Venice film festival. Visaranai was the official entry to Oscars from India the same year. Vadachennai has been in the production for close to 3 years and it's termed as passion project for actor & director.
Vada Chennai will see a biggest release on October 16th in Dhanush's career. Since it is a Tuesday release in the US, the patrons can benefit from "Buy 1 Get 1 Free Ticket" offer from AT&T.
G2G1 international once again thank the producer Lyca Productions for giving us the opportunity to associate with this prestigious film and we expect this movie to be critical & commercially successful as well for everyone.
Feel free to inquire about trade on your cities by emailing us at [email protected] or (213) 534-8306
Synopsis: Vada Chennai (North Madras) is tipped to be a gangster film that spans over 35 years. Reportedly, Dhanush plays Anbu, a national level carrom player, who aspires to become a world champion. The story is said to take its course following the death of a leader which leads to the split of a political party. 'Vada Chennai' will have a strong political angle and by Vetri Maaran's own admission, the film will be a refreshing change in the gangster drama genre. Since the film begins in the '80s, the makers have spent a big amount to erect a massive retro style set.
Movie Name: Vada Chennai
Release Date: Oct 16th Premiere (Showtimes: TBD)
Ticket Price: $12 Adults/$8 Kids
Language: Tamil
Distributed by: G2G1 International LLC & LYCA Productions
Start Casts: Dhanush, Aishwarya Rajesh & Samuthrakanni
Duration: TBD