Story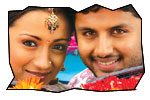 Madhava Rao (Vizag Prasad) is a big businessman and his competitor Saxena (Satya Prakash) is a crook. When Madhav Rao meets with an accident, his daughter Trisha (Trisha) takes over the company. Raju (Nitin) comes from nowhere to help Trisha. Trisha appoints Raju as general manager. Trisha has an inseparable younger sister called Usha (Rathi). Due to certain circumstances, Raju forces himself to disguise as Balu and Usha falls in love with Balu. As the confusion about mixed identities continue, Munna - another look alike of Raju - comes from Mumbai. Munna is a right hand of Karim Lala (Saurabh Shukla) - a Mumbai underworld don. The rest of the story is all about what happens when Munna try to destroy the family which Raju intend to save!
Artists Performance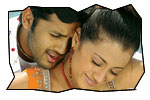 Nitin performed well in both roles by showing variation in appearance, histrionics and dialogue delivery. His dialogue delivery improved a lot compared to his earlier films. His dances in this film are pretty rhythmic and natural. Trisha is cute and she is presented in modern attire. Rathi is passable. Sunil is impressive with his comedy towards the interval episode. Saurabh Shukla is comical as the villain. Kota Srinivasa Rao and Krishna Bhagawan are routine.

Technical Departments: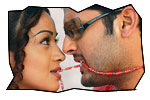 Story - screenplay - direction: Story and set up chosen for this film is pretty archaic one. This kind of stories that are based on comedy of errors and confusions need slick and smooth screenplay. But K Raghavendra Rao is still following his old techniques. Direction of the film too is pretty old-fashioned.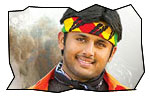 Other departments: Keeravani reworked on his old tunes to score music for this film. Songs appear better on screen than when you listen on tape. On picturization front, Trisha and Ataka songs are really good. Photography by Bhupati is good. Dialogues are average. Artwork by Ashok is pretty vibrant. Production values by Sri Creations are good.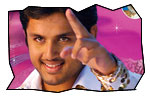 Analysis: First half of the film is OK with ample comedy created by the confusion. The second half goes haywire with confusion in the storyline and inept handling. The plus points of the film are Nitin, Trisha and a couple of songs. The negative points are screenplay and old-fashioned direction. On a whole, K Raghavendra Rao's 102nd film Allari Bullodu does not live it up.
Allari Bullodu Links
Photo Gallery
Audio launch
Wallpapers
Trisha Photos
Jeevi reviews of previous 5 films
Mogudu Pellam O Dongodu
Okkade
Muddula Koduku
123 from Amalapuram
Please Naaku Pellaindi
More Reviews