Story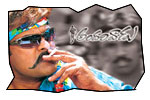 Govindarajulu (Chiranjeevi) is a labor leader who enjoys life in his own entertaining way. His son Siddardh (Chiranjeevi) heads a popular TV channel. Govindarajulu raises his son Siddardh on his own as his wife dies when Siddardh was a kid. Siddardh and Swetha (Rimmi Sen) fall in love. They get married. But Swetha has a secret mission of separating father and son. The rest of the story is all about whether she succeeded or not.
Artists Performance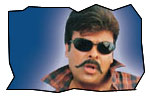 Chiranjeevi: Chiranjeevi is superb as Govindarajulu. He proved once again that he is the king of comedy. His mannerisms and dressing style are very appealing to masses. Chiranjeevi is good and pretty as Siddardh. He has shown tremendous variation in mannerisms, make-up and voice modulation. This film runs with 80% credit going to Govindarajulu character. In the scenes involving father and son characters in the same frame, you end up watching Govindarajulu only.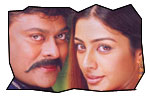 Heroines: Tabu is pretty natural and had a very little make-up. Sunita dubbed her voice. Rimmi Sen is just adequate. She is spontaneous as naughty girl, but could not emote well in the scenes where she shows her negative attitude as wife. Rakshita is good though her role is limited. She danced with Chiranjeevi in first and last song of the film.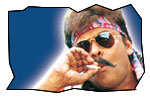 Others: Prakash Raj is good though his role is limited. Pradeep Rawat is OK as villain. He tried to show cruelty with terse expressions. Brahmanandam is good as a jealous colleague of Chiranjeevi. MS Narayana entertains with his English speech. Sunil is excellent in the second half of the film. His dialect is different from the one he used in his earlier films. Kaikala Satyanarayana, Paruchuri Venkateswara Rao and AVS are adequate.

Technical Departments: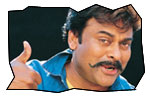 Screenplay - Direction: Storyline of the film is hackneyed. Screenplay of the film is adequate in the first half and sloppy in second half. Seenu Vytla's strength lies in comedy department. He once again proved his prowess in handling comedy scenes with panache. He managed to narrate the story smoothly in first half, but could not sustain the flow in second half where the much needed story unfolds.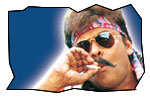 Music: Music by Devi Sri Prasad is average. Three songs (Okati Rendu Moodu, F TV & Kodi Kora) appear good on screen with better picturization. There is a typical James bond kind of song 'Andarivadu' that comes in background during titles of this film. The background score is adequate. The background music given in the scenes that involve mute conversation between Chiranjeevi and AVS is very good.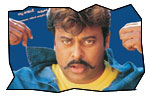 Other departments: Cinematography by Kabir Lal is good. The usage of expensive motion control camera served the purpose very well as the frames that have both Chiranjeevis together appear amazingly realistic. Dialogues by Kona Venkat are good. There are many one-liners that catch your attention. Much care should have been taken while choreographing fights involving threadwork. The graphics towards climax are shabby. Production values of Geeta Arts are good.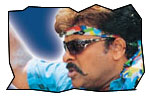 Analysis: First half of the film is entertaining though there is no story. Second half of the film is a bit of let down. There is very good entertainment in the film, but there is no depth in emotions. This film suffers from lack of conflict as both the son and the father characters are shown in positive light. Hence it is virtually impossible to break the trust and bond they share. The plus points of the film are Chiranjeevi's performance as Govindarajulu and comedy. The vital drawback of the film is storyline provided by Bhupati Raja. For all its positive and negative points, Andarivadu is definitely worth a watch for Govindarajulu character.
Andarivadu Links
Photo Gallery
Muhurat
Audio function
Wall Papers
Mega Posters
Video Promo
Release centers
India | USA | UK | Australia
Jeevi reviews of previous 5 films
Narasimhudu
Kunkuma
Bhadra
Athaokkade
Naa Pranamkante Ekkuva
More Reviews