LIKE GURU DUTT, RAJ KAPOOR TOO WAS ANGUISHED BY AN iniquitous, inequitable world order. The tramp's world was also a far-far cry from Utopia, with its class distinctions, its murky moral code and its crass commercialisation. Here, in such an awry clime, the status of the common man is almost similar to the street dog who is kicked off from the main highways, whenever he dares to walk on them. One of the most recurrent images in his films is that of the tramp and the mongrel sitting together on the pavement in shared rejection.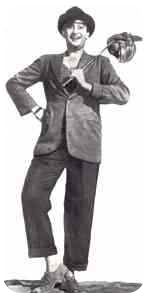 In Awara (1952), Raju, the petty thief, cries out against a society that accords respectability to thieves, conmen, pickpockets, hoarders and capitalists at the expense of the impoverished working class. "Yeh hamare naye samaj ka dosh hai, jo chor ham, jebkatre hain, public ki aankh mein dhool jhokte ham, meri tarah achche kapde pehante hain, wo chor nahin, aur jo mehnat-mazdoori kartne hain, won. chor hain" (This is a defect in our new social set-up which hails thieves, pickpockets, well-dressed conmen as respectable people and looks down on the hard-working people as thieves), he exhorts and then draws parallels between his own dismal lot and a street dog's destiny. "Kitni ajeeb bat hai, tu bhi awara, main bhi awara, tu bhi badnam, main bhi badnam, tu bhi beghar, mera bhi koi nahin, tu bhi meri tarah pyar ka bhhokha. Fark sirf itna hai ki tu janwar hai aur main insaan. Insaan, huh!" (How strange. You are a vagrant. I am also one. You are of ill-repute, I, too am. You are homeless, I, too, have no home. You are also hungry for love, like me. The only difference between us is that you are an animal and I am human. Human, huh!). Obviously, in Raju's view, there is hardly any difference. For the poor who throng the pavements are as marginalised as the street pariahs.
In Shri 420, too, he aligns himself with the dehumanised down and outs who live behind the glare of Bombay's glittering skyline. With his tattered shoes, patched trousers and pocketful of dreams, he strikes an instant rapport with the city scum. A banana-seller becomes his foster-mother and a plebeian schoolteacher (Nargis) his betrothed. Raj Kapoor's penchant for proletarian woes was like his outward tramp-like appearance. Totally Chaplinesque. For Chaplin, the proletarian may be the man who is hungry and the representations of hunger may be epic in his films: excessive size of sandwiches, rivers of milk, cartfuls of fruit tossed carelessly aside, untouched. Nevertheless, despite being ensnared in his starvation, the Chaplin Man is always just below political awareness. Roland Barthes elucidates: "Historically, Man, according to Chaplin, roughly corresponds to the worker of the French Restoration, rebelling against machines, at a loss before strikes, fascinated by the problem of bread-winning (in the literal sense of the word), but as yet unable to reach a knowledge of political causes and an insistence on a collective strategy."
Raj Kapoor's tramp was also a political animal who cried out against destitution and the inequitable distribution of wealth. But he did not hold political-economic systems responsible for this. With him, rebellion grew soft, gentle and hence easily containable, even though the underdog was stationed centrestage. For Kapoor's underdog may be poor, yet he was happy and full of buoyant life. And once the downtown ramblings were complete, the identification with the down and outs was also done away with. In Awara, when the first opportunity of a class transfer looms ahead, Raju, the bourgeois-basher, becomes the biggest bourgeois of them all. At the end of the our-class-their-class diatribe, the vagrant realises that he is actually the lost son of the city's stuffy, aristocratic judge, Raghunath (Prithviraj Kapoor). The very same one who frowned upon the fringe people and believed in the Nietzschian concept of men and supermen, of bad blood and blue blood, of kings and common men. Thus, the first opportunity that comes his way, Raju moves upwards and finds a comfortable niche for himself in the gilded family hearth, unmindful of all vagabonds, tramps, street dogs, the unwanted and the dispossessed.