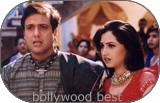 Cast: Govinda, Sonali Bendre, Rinki Khanna, Rima Lagoo, Shivaji Satam
Produced By: Ayesha Shroff
Music: Anand Raj Anand
Screenplay and Director: Mahesh Manjrekar
Fultoo Rating: 2/5


If you still have faith in the pastoral glory of India some 50 years ago when everything was, as we are told, in divine harmony and bliss, pristine relationships devoid of any hatred and wantonness so much so that the guy who tries to molest a girl, turns around to be a good pal of her, then well, Jis Desh Me Ganga Rehata Hai might make a good film for you, but if you care a bit for the contemporary India where even a rustic villager prefers Kaun Banega Karod Pati to the News in Hindi at 9 pm (wherever it is possible of course), is desperate to move to the Shehar in his quest for the mega buck, the movie appears to be antiquated in its plot and storyline, being too simple and too sweet to be credible in the present context.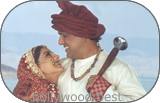 Ganga (Govinda) is a naïve, simpleton whose blissful life, involving sheep grazing and singing songs with a vexing frequency with his buddy Sawani (Sonali Bendre who has too urbane looks to be believed as a village belle!! ) suddenly turns into a night mare when he has to depart from his guardians and go with his real parents to an absolutely new world for him of blitzkrieg and dazzle after 24 years. In his childhood Ganga had contracted a disease whose cure was, an environment replete with fodder and sheep. So he is left by his parents in the custody of a couple of the village (played by Shivaji Satam & Rima Lagoo) and guess what, the parents did not bother to see their child for 24 years!! And so Ganga grows older not knowing that the ones whom he loves so much as his parents are not actually his parents but just guardians. And hell breaks loose on him when he has to unwillingly migrate to the ugly town.
Quite predictably, Ganga has to return to his village after going through all sorts of the deliberately depicted wrong things of the town that makes him feel that he is a gross misfit for the urban life.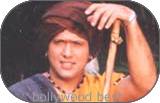 This stint of Mahesh Manjrekar on grossly commercial lines clearly exposes the confusion that might have prevailed in his mind while he was endeavoring to direct a film, which is not his type. At one point he does try to communicate some message, when Ganga explains Preeti (Rinki Khanna), who has a crush on the rustic Ganga, that how important is self respect for anyone when Preeti reasons out her hatred for her mother who had left her when she was 2 years old. And then you see badly placed songs sprinkled all over the movie (couple of them without reason). Only that the scores are foot tapping but for this the songs would have been a reason to leave the cinema hall before even the movie gets over. And then of course the showing of everything good about the village and everything bad about the urban life!! The migration of a villager to urban life and his difficulty in getting along with it, the inconvenience of the family members because of the Dehati, could have been portrayed more sensibly and sensitively. But the director falls into mundanity here.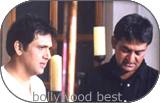 Govinda as usual is at his best. He is extremely comfortable with such kinds of role and the lucidity of his dialogue delivery coupled with his natural expressions is pleasing. Rima Lagoo as his mother delivers once again a convincing performance as she did in Vastav by the same director. Sonali Bendre tries hard to hide her urbane looks to render some sort of credibility to her character of a village girl and succeeds albeit to a certain extent only. Anyway, this is really out of her control. Rinki Khanna as the hep city girl seemed to be totally uncomfortable in her mini skirts. Even she could not emote out expressions in the couple of dance sequences with Govinda and appeared as bland as Ras Gulla without sugar! And but for good music from Anand Raj Anand the down pour of the songs in the movie could well have caused a severe head ache.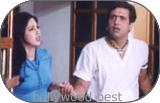 In this movie, which is a kind of remake of a Marathi Film, Ekta Jeev Sadashiv, Mahesh Manjrekar though raises one more issue of the glaring disparity between village life and city life but fails to convince in anyway, contrary to his earlier very poignant and emphatic films. Every director has a forte, David Dhawan has the one to giggle you out with his outlandish comedy, Yash Chopra is excellent when he handles relationships, and so has Mahesh Manjrekar with issue based movies and he demonstrated that very ably in Vastav, Nidan and Astitva. Here he attempts a light comedy touching a very outdated issue with full commercial considerations and the out come is like a lazy, drab pudding. Watch it at your own risk.