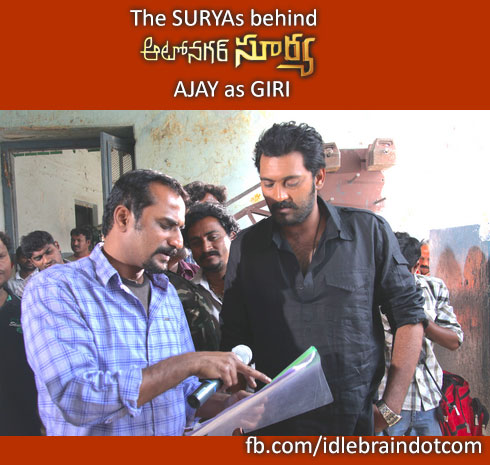 1 July 2014
Hyderabad
The SURYAs behind Auto Nagar Surya: In this series I would like to share my journey with the character artists who delivered impeccable performances in Autonagar Surya.
AJAY as GIRI
Even though Ajay proved out to be a very versatile and transformable artist, I was always wondering if he is challenged enough as an artist in many of his recent outings on sets. Vikramarkudu was one of his best in my view. He has a terrific timing and will to transform into any character if you compile all his work and screen through it at once.
I was playing Ajay for Giri in my mind while developing the story itself. I dedicate this article to him because he contributed much more than what he was paid for. He was a single take artist almost all the time, with any scene. Ajay have a very meaty role in Autonagar Surya and I believe it's one of his showcase performances. He is extremely good at reading how he looks in front of the camera. One challenge I had with Ajay was that he needs look younger for the 16 year old episode of Surya and look at least 8 years older when Surya is 24 years old. Its not a big deal if ANS is the only film Ajay is working...he is busy with many movies and yet he has to maintain continuity in our film as our schedules were spread sporadic stretching for more than a year. He couldn't dub for another year after the shoot was over. Despite all those forces warring against the integrity of the character and the very movie itself, Ajay lived it up and made it one of my most favorite characters in the film. Giri has style, control with menacingly cold and mean attitude. Ajay lived it up as if the whole character was filmed at a stretch.
I thank this Surya for his commitment and sacrifices. Wish him all the best to reach higher altitudes in his career.
- Deva Katta
other ANS articles by Deva:
Madhu Singampalli as Mayor Kotalingam
The seed of Auto Nagar Surya by Deva Katta
snippet 1: anaadhane.. kaani anaamakudini kaadu
snippet 2: edagadam
snippet 3: Motor Caste.
snippet 4: Loafer Jaathi