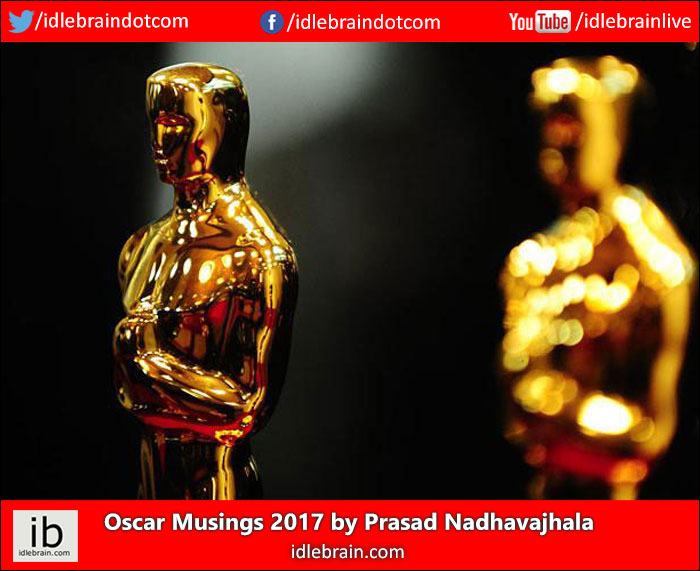 25 February 2017
San Francisco
When Saroo Brierley travelled from Australia to Khandwa in Central India and found his biological mother after 25 years of separation, it was a media sensation in 2012. Based on Saroo's memoir "A Long Way Home", his unbelievable journey was made into the film "Lion" (his original name 'Sheru' which means lion in Hindi) and is one of the highlights of Oscar night on Sunday with six nominations. Though the real star of the movie -- Sunny Pawar (as child Saroo) -- was not nominated, all 'Lion' supportes are waiting to see if Dev Patel (as adult Saroo) can upset the front-runner nominee in 'Best Supporting Actor' category Mahershala Ali ('Moonlight').
With the record 14 nominations, "La La Land" is the 'Best Picture' of the year. An ode to retro Hollywood musicals, this love story of a jazz musician and an aspiring actress is a musical visual feast and the city of Los Angeles never looked more beautiful. Harvard-educated 32-year old Damien Chazelle will be the youngest ever Best Director if he wins the Academy Award on Sunday. The film should also win big in majority of its nominated categories including Best Editing, Best Cinematography and Best Original Score.
2016 saw some of the best acting in the recent times. 'Best Actor' race is between Casey Affleck ("Manchester by the Sea") and Denzel Washington ("Fences"). Casey's portrayal of emptiness is heart-rendering and should win him what his brother Ben Affleck doesn't have: 'Best Actor' Oscar. Though 'Best Actress' category is packed with formidable performances by Natalie Portman's Jackie and Isabelle Huppert's Elle, Emma Stone should win another nod for 'La La Land'. There is intense competition from Nicole Kidman ("Lion") and Michelle Williams ("Manchester by the Sea") but Viola Davis will finally win her first Academy award: 'Best Supporting Actress' in "Fences".
If there is one major award that "La La Land" may lose in Dolby Theater, it will be 'Best Original Screenplay' award to Kenneth Lonergan ("Manchester by the Sea"). 'Best Adapted Screenplay' to Barry Jenkins will be a consolation to him if "Moonlight" doesn't win either 'Best Film' or 'Best Director' award.
Goofy German comedy "Toni Erdmann" is the favorite to win 'Best Foreign Film' till the travel ban came into effect in U.S. and the Iranian director of "The Salesman" announced he would skip the awards as a form of protest. In the current heat of political overtones, it will not be a surprise if the Academy members embrace Asghar Farhadi's drama about a pair of actors performing Arthur Miller's "Death of a Salesman" in Tehran!
My predictions for Oscar night:
Best Picture: "La La Land"
Best Director: Damien Chazelle ("La La Land")
Best Actor: Casey Affleck ("Manchester by the Sea")
Best Actress: Emma Stone ("La La Land")
Best Supporting Actor: Dev Patel ("Lion")
Best Supporting Actress: Viola Davis ("Fences")
Best Original Screenplay: Kenneth Lonergan ("Manchester by the Sea")
Best Adapted Screenplay: Barry Jenkins ("Moonlight")
Best Animated Feature: "Zootopia"
Best Editing: "La La Land"
Best Cinematography: "La La Land"
Best Original Score: "La La Land"
Best Original Song: 'City Of Stars' ("La La Land")
Best Costume Design: "La La Land"
Best Makeup & Hairstyling: "Star Trek Beyond"
Best Production Design: "La La Land"
Best Visual Effects: "The Jungle Book"
Best Sound Editing: "La La Land"
Best Sound Mixing: "La La Land"
Best Foreign-Language Film: "The Salesman"
Best Documentary: "O.J.: Made in America"

Prasad Nadhavajhala can be contacted at [email protected]

Past articles:

Oscar musings 2016
Oscar musings 2015
Oscar musings 2014
Oscar musings 2013
Oscar musings 2012
Oscar musings 2011
Oscar musings 2010
Oscar musings 2009