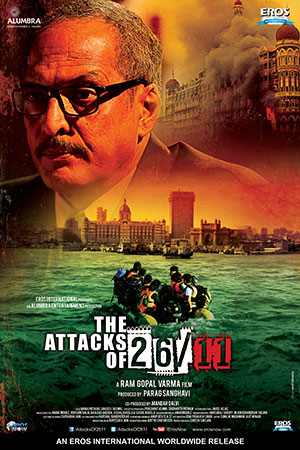 Have you ever seen a dog which has been infected with rabies? Try observing because you shall see it has no thought process. It just bites, barks, kills anyone whether it's HUMAN, ANIMAL, FURNITURE, anything that comes in its way. Not that it's happy doing so. It just gets irritated and triggered for no reason.
Kasab - Dog with Rabies!
Who has no thought process but vision of JANNAT after raising HAVOC on humanity? Seeing Sanjeev Jaiswal portray as MOHAMMAD AJMAL KASAD was perfect. What resemblance to the original perpetrator. What an enactment and when you see him at a distance when he is thrown in front of NANA PATEKAR feet who is Joint Commissioner of Police. You will see the evil dancing on his face; you will wonder how a human being can turn in to an animal. And you would want to split him in to two pieces. Every statement his speaks is just insanity and forcibly pressured ideas in to his system.
Nana Patekar the ORIGINAL Dialogue Delivery Emperor!
Watch him portray as a Joint Commissioner of Police – Mumbai. Watch him keenly, his expressions and how he informs the incapability of Indian System in protecting while the crime is in process. Some statements brings light on to the helplessness of POLICE/ARMED forces.
Personally, I was taken by the way these insane DOG's arrived, walked as if they had some music was running in their mind while they shoot innocent human beings and not flutter for a second about their deeds. It's dramatic for those who haven't seen any kind of BLOOD SHED. Please mind – Do not go for fun because this is not one of those time pass movies. It's REALITY.
Minor drawback – The movie is censored in many ways because of the sentiments and humanity reasons. Don't feel that this movie has ended abruptly because seeing the glimpse of reality would break your soul. Imagine if you get in to details. You would not sleep just like I couldn't sleep when I saw a man accidently slip under a truck and his brains/head burst like a Coconut. If you are sensitive at heart or emotionally weak – Please be advised to sit with those who can hold or sit close to you.
WATCH IT not to speak about it but to PROTECT your own country like those brave hearts WHO TOOK THE BULLET!
By Vasudhara
bykerusso at gmail dot com
Other views by Vasudhara:
• Kai Po Che
• Zila Ghaziabad
• Mirchi
• Ongole Githa
• Vishwaroopam
• Matru Ki Bijli Ka Mandola
• SVSC
• Naayak