Story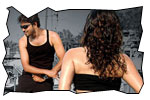 Subramanyam Sastri (Allari Naresh) falls in love with Surekha Reddy (Farzana) who lives with her relatives in Hyderabad. After falling in love Sastri gets to know that Surekha Reddy belongs to a popular factionist family in Rayala Seema. The rest of the story is all about how Subramanyam and his family members convince the factionist for the marriage in a humorous way.
Artists Performance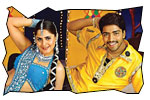 Allari Naresh is good as the Seema Sastri. His body language suited the character of a timid guy. His dances are good in this film. Farzana complemented the role given to her. She has got amazing flexibility in dances. Brahmanandam, Ali, Krishna Bhagawan, Raghubabu etc did well in comedy department. Jaya Prakash Reddy is typical in a role that he got so much used with.
Technical Departments: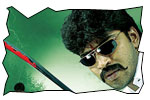 Story - screenplay - direction: Story of the film is simple. But director succeeded in maintaining grip throughout the film with comedy and necessary twists. The comedy in the film is good, though it is bit vulgar at times. Screenplay is alright. The spoof of Seema films has become stale by now. But the director made sure that there is something more for the people who have seen spoofs of Seema film.
Other departments: Music is good with popular picturization of songs. Dialogues are good in parts. Cinematography is ok.
Analysis: The first half of the film is alright. Second half is OK. The plus points of the film are comedy and songs. On the flip side, there is a bit of vulgarity and Brahmin-bashing. If you can ignore illogical scenes and vulgarity, it is a decent comedy film that does not bore you.
Seema Sastri links
• Music launch
• Muhurat
• Photo gallery
• Wallpapers
Jeevi reviews of previous 5 films
• Athidi
• Tulasi
• Bhayya
• Chirutha
• Happy Days
• Chandamama
• Raghavan
• Yamadonga
• SDZ
More Reviews