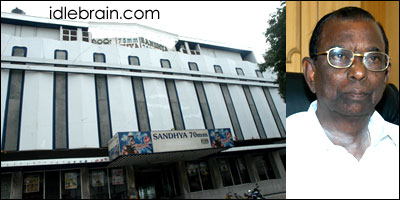 Sandhya 70 MM A/C is one of the best theatres at Andhra Pradesh and is located at RTC X roads, Chikkadapalli Hyderabad. Sandhya 70MM A/C is the first theatre built in that complex and was founded and inaugurated by M Chandraiah in 1980. Hindi movie 'Shaalimar' is the first movie that was screened at this theatre and sholay was the second movie at this theatre.


| | |
| --- | --- |
| Founder | M Chandraiah |
| Leased by | Avula Sundara Rao |
| Manager | Ramesh |
This theatre has a prestigious Dolby Digital Surround Ex sound system installed and had excellent sound effects. This theatre has a Xenon lab projection and it is unique of its kind. Sandhya 70MM A/C theatre capacity was reduced to 1323 from 1489 to facilitate more comfort to the patrons and introduced luxurious couple seats during its recent renovation.
Seating Capacity of theatre Class wise:
| | | | |
| --- | --- | --- | --- |
| Class | No of seats | Ticket price | Gross per show |
| Balcony | 523 | 35 | 18305 |
| Dress Circle | 325 | 30 | 9750 |
| First Class | 210 | 25 | 5250 |
| Lower Class | 265 | 10 | 2650 |
| Total | 1323 | - | Total Gross: Rs 35955/- |
Idlebrain correspondent had a talk with Mr Ramesh manager of the theatre for getting more information about various movies run/collections at Sandhya 70MM A/C.
IB team also had a chat with M Chandraiah, proprietor of Sandhya theatre. Chandraiah is a well known person in the AP film Exhibitor council and also known as a film distributor and producer. He distributed Mahesh Babu's Arjun and Naani for the Nizam area and also producer for a Tamil dubbed movie Rojapoolu. He owns 8 theatres in Andhra Pradesh and all theatres are well managed.
Below is the list of theatres
Sandhya 70 MM A/C - RTC X Roads
Sandhya 35 MM A/C - RTC X Roads
Sivashakthi - Kapra
Shiva parvathi - Kukatpalli
Hitech Theatre - Madhapur
Shivam - Dilsukhnagar
Ganesh - Dilsukhnagar
Sandhya - Cuddapah
Apart from the above theatres he also maintains Sridevi theatre at Chilakalaguda.
Talking to the Idlebrain, Chandraiah said that he is a devotee of Lord Shiva and he started his career at the age of 7, as a child labor at Granite mines due to demise of his parents at early age. At the age of 17, with the help of friends and relatives he bought a lorry for 500 rupees and entered into transport business, slowly he became very famous and with in no time he became owner of a big transport company and manages a fleet of 20 Lorries and hundred of workers. He also ventured into real estate business and got big success in that area too. In 1976, he bought the 6000 Sq yard of land from Marvadi's at Chikkadapalli X roads at the rate of 102 Rs/Sq yard and constructed Sandhya theatre. For the first five years he could not able to generate any revenue out of the theatres, but later point of time he succeeded in the exhibition field also. Then he constructed many theatres in Hyderabad and became a reckon in the exhibitors circle.
Chandraiah said that these days theatre management is very difficult due to the less number of films released and more number of theatres. He also opined that slab system removal is good for the middle class people and more and more people can watch the movie at theatre, on the other hand he also said that moviegoer does not care about the ticket prices, if the movie is good. He said he lost 4 crore due to the construction of two theatres at Dilsukhnagar (Due to the excessive number of theatres at DSNR area) and also incurred loss of 6 crore for distributing two movies at Nizam area and for producing a movie. He also opined that Y.S Rajasekhar Reddy led government rendered lot of help to Telugu film industry by removing the slab system and also by brining the anti piracy bill.
Idlebrain also met Avula Sundara rao, who leased the Sandhya theatres and he maintains theatres for the past 20 years. Sandhya 70MM A/C is lucky mascot for Pawan Kalyan and all Pawan Kalyan movies had record breaking collections at Sandhya group of theatres. Pawan Kalyans Khushi collected a grand share of Rs 1 crore at Sandhya 70MM A/C for its 160 days run. Incidentally this is the second highest share in any single theatre in Andhra Pradesh after Nuvve Kavali at Odeon 70MM A/C. Khushi was lifted from Sandhya 70MM A/C when it was running with decent share, due to the prior commitment for Chiranjeevi's Daddy movie. Pawan Kalyan's Toliprema is another big hit movie at Sandhya 70MM A/C and it ran for record breaking 227 days. Pawan Kalyan Toliprema theatrical rights for Nizam area bought by Giri and Raju of Sri Venkateswara Film Distributors for 62 lakhs. For its 227 days run, Toliprema collected an amazing share of 63 lakhs at Sandhya 70 MM A/C alone. Toliprema was also lifted from Sandhya 70MM A/C with good running share due to prior commitment for another Chiranjeevi movie.
Chiranjeevi movie Master had a great run at Sandhya 70MM A/C and it ran with worth houseful for 75 days and DCR fulls for 100 days. This is the only 100 day's houseful movie at Hyderabad followed by Nuvvekavali (99 days full at Odeon 70MM A/C). Chiranjeevi's Gharana Mogudu also had silver jubilee run at Sandhya 70MM A/C.
Nagarjuna hit movie Shivamani had a 32 lakh share at Sandhya 70MM A/C for 100 days and NTR block buster movie Simhadri had a 30 lakhs share for 100 days. Mahesh babu's recent 100 days movie Arjun had a 30 lakh share.
Old classical movie Devadasu was re-released during 1984 and had a successful 100 days as noon shows. Kanyasulkam and Keelugurram also ran for 100 days as noon shows at Sandhya 70MM A/C.
Below is the list of Silver Jubilee movies at Sandhya 70MM A/C.
1. Toliprema -227 days
2. Gharana Mogudu - 183 days
3. Bobbili brahmanna - 175 days
4. Mundadugu - 175 days
5. Hanuman Junction - 175 days
Below is the list of 100 days movies
1. Alluda mazakaa(150 days)
2. Sivaiah
3. Sivamani
4. Master
5. Thoti kodallu
6. Daddy
7. Osey Ramulamma
8. Simhadri
9. Bhaktha Siriyal
10. 20 va sathabdam
11. Maharaju
12. Illali Korikalu
13. Sahasa veerudu Saagara Kanya
14. Premaku Veelayera
15. Khushi(160 days)
16. Chattaniki Kallulevu
17. Paruvu Pratistha
18. Athaku yamudu Ammayiki Mogudu
19. Brahma Putrudu
Note: All the above information is provided by the theatre management. There might be missing 100 days movies in the above list. Please feel free to mail us the missing movie info, if you happen to observe.
Click here for theater reviews:
Sudarshan 70mm
Sudarshan 35mm
Devi 70mm
Hitech
Prasads