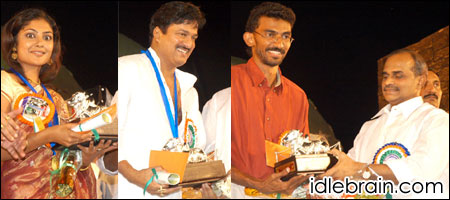 Nandi awards for the year 2004 were given away at a function arranged in People's Plaza, Necklace Road on the night of 26th October 2005. YS Raja Sekhara Reddy, Dasari, M Satyanarayana Rao, K Rosaiah and Shabbir Ali attended the function as guests.
The function stated with cultural shows like songs and mimicry. G Adisesha Giri Rao gave the introductory speech.
Minister for Cinematography M Satyanarayana Rao said, "The Nandi Awards for films were introduced in the year 1964 and are being given away without any break since then. Nandi awards for TV are being given from 1990 onwards. Nandi Awards for stage plays were introduced in 1999. The government has cut down the entertainment tax on small budget films. We are giving subsidy and free of charge locations for children films. The present government has abolished slab system. The state government is going to conduct International Children Film Festival from 14th of November to 20th of November in Hyderabad city. Dasari put lots of efforts to move Telugu film industry from Chennai to Hyderabad 20 years back. I also produced an award winning film called Chivaraku Migiledi in 1950's."
Dasari said, "The present congress government abolished the menacing slab system that has been suffocating Film Industry for the past 18 years. The awards given for this year seem to be very idealistic. The committee was given a free-hand and there was no influence from the Government. Rajendra Prasad who aggressively campaigned for Telugu Desam Party is given the best actor award and it shows the unbiased nature of Congress Government. It is really nice to see first generation actress and producer like Krishna Veni getting Raghupati award. She is the one who introduced legends like NTR and SVR. The abolishment of slab system is a boon to the exhibitors. But a few exhibitors are leasing their theaters out. In this way the middlemen are getting benefited. A person who can lease a chain of theaters is said to have made up to 12 crores in one year. Government has not given benefits so that middlemen would get benefited. The exhibitors should save themselves and the industry from these middlemen. Telugu films completed 75 years now. We would be doing a big function to commemorate this occasion very soon."
Balayya who headed Nandi Award Jury recommended the following points -
1. Considering films made on 16mm film and digital mode for feature films category provided that these films are converted into the regular format at the time of censoring.
2. Increasing the number of Jury awards from 3 to 5.
3. Introducing 3 new categories - Graphics, Best popular film and best character actress.
4. Producer of the best Children film award gets 1 lakh and the second best children film gets 20,000. Increase the cash prize for second best from 20000 to 50000.
5. In the past, DD used to broadcast Nandi award winning films nationwide. Now they stopped doing it. Reconsider the suggestion of broadcasting Nandi winning films.

YS Rajasekhar Reddy said, "Our Government is willing to help Telugu film industry always. We have come up with rules and regulations to tackle the menace of video piracy. We reduced the entertainment tax on films though we lose around 15 crores an year. Rates of tickets are reduced. The jury has given very fair awards."
Best actor Rajendra Prasad said, "Though I have received six Nandi awards so far, I consider this award to be the best in my 27 years of career as an actor. Aa Naluguru has great relation with media. It was journalist Anne Ravi who introduced me Chandra Siddardha and Madan to me. I played the role of editor in the film. The media has given excellent coverage for Aa Naluguru after release and made sure that this film reaches the critical mass. Total credit for the success of this film should go to writer Madan and director Chandra Siddardha. Dasari pointed out that I campaigned heavily for TDP. I was born in the backyard of NTR's house and I campaigned to him. I never campaigned to TDP in particular. Anyway, I agree that I am a failure in politics and I would like to keep away from politics henceforth. I would like to sponsor best actor medal from the next year onwards if Government permits."
The team of Anand and Aa Naluguru came forward to donate all the cash prize they got in this function to the CM's fund for heart children. YSR gave away the awards to the winners.
Nandi awards coverate at idlebrain.com