Anand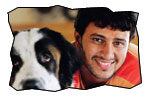 I can term this movie as a sensible movie. It's a movie everybody would love to see and everybody feel that's how a movie should be. It is a movie for people with taste.
Some feeling we can't explain like those of kissing, dancing in the rain, eating ice cream etc.... those should be experienced. Same with the movie Anand .. it should be seen to experience the feelings………………………
This is the best movie I have seen in recent times. The problem with us is what ever we get we still ask for more. The last half an hour should have been strong then it would be "manchi Ice cream lanti cinema" helped in repeated audience (this is just my opinion and it might not be true), but I love this movie.
Coming to characters,
Kamalinee: Very matured and good looking. She has everything in her eyes. Everybody would love to have a life partner like that. She is the main plus for the movie.
Satya: I will give her 10/10 for her role and she done extremely well. The feeling she give during chiru clipping is too good.
Raja: He is lucky to get this project and he did far better than expected.
Baby Bakita: Cute and her dubbing is good.
Sekhar Kummala: He is talented and has good taste. His dialogues are simple short and sweet. We can see his passion, homework and soul in this movie.
Any producer before listening to story they should see how passionate the director is about his story. Generally producers listen to 10 to 30 mins maximum and decide. We all know the results..big bombs…They should listen to the whole 3 hrs story and should grasp the passion in the director or writer and decide .If they can produce movies like Anand we can have talented directors like Sekhar Kummala.
Iam Raj, a software engineer who dreams to enter film industry as director one day. I am very much inspired by Mr. Sekhar Kummala and would love to meet him. Can anybody help me??
More My Movie experiences:
Purnesh - Anand
Purnesh - The Village
Sriram - Gudumba Shankar
Purnesh - Gharshana
Purnesh - Lakshya
Purnesh - Yuva
Leenesh - Yuva
Kis - Lakshmi Narasimha
Indian Pride - Tagore
Raj - Boys
Phani - Gangotri
Phani - Khadgam
Vikram - CKR
BKR - Indra (Singapore)
Ram - Indra (Dubai)
Ranjeet - Idiot
Rahul - Indra
King Koduri - Indra
Srilakshmi Katragadda - Mitr: My Friend