Story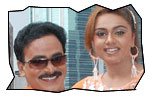 Pedda Babu (Kota Srinivasa Rao) and Chinna Babu (Tanikella Bharani) are step brothers and also neighbors with a beautiful daughter each. Balaraju (Sunil) gets insulted when he visits the house of Chinna Babu for pelli choopulu. Balaraju wants to seek revenge by making sure that Vidya (Jyothi) - daughter of Chinna Babu - would get the worst youngster as husband.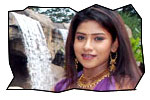 After research, Balaraju closes on Balu (Venu Madhav) who is an herb selling fraudster. Due to certain misunderstanding he enters the house of Peda Babu and tries seducing his daughter Divya (Abhinaya Sri). Bala Raju finds another worthless youngster called Badri (Ali) who is a pimp by profession. Both Balu and Badri claim themselves as sons of billionaire Jamindar to impress Chinna Babu and Pedda Babu. Balu and Badri makes Divya and Vidya fall in love with them respectively.
The rest of the story is all about how all ends well.

Artists Performance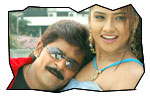 Venu Madhav is a treat to watch in this film. His personification as mass hero in fights of the film is hilarious. His comedy timing is impeccable. He got much more footage than Ali. Ali is good. But seeing him as pimp is a disgusting occurrence. It is Brahmanandam who steals the show with his typical knows-the-truth-but-nobody-trusts-him kind of role. Dharmavarapu Subramanyam is cool as a hi-fi marriage broker 'Website Venkateswara Rao'. Sunil is good. MS Narayana is cool. Abhinaya Sri and Jyothi are beautiful and decent. Amukta Malyada has a very small role. Rama Raju is fair.
Technical Departments: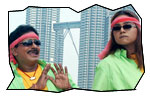 Story - screenplay - music - direction: The storyline of the film is a typical 'comedy of errors' genre one. We see these kinds of films very often in Tamil. Screenplay of the film is adequate. Direction by SV Krishna Reddy is fair. Music is OK. From the picturization point of view 'Muthamma Muthamma' song is the best. 'Manikya Veena' is good to listen. 'Chiru Chiru' song is pretty professional with Venu Madhav dancing like a big hero.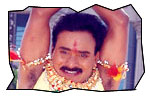 Other departments: Dialogues by Janardhan Maharshi are OK. Fights by Vijay are entertaining (in comical way). Cinematography by V Srinivasa Reddy is fair. Editing by V Nagi Reddy is adequate. Production values by new banner RR Moviemakers are adequate.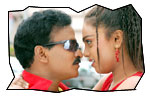 Analysis: First half of the film is mediocre. Second half is OK. Movie gets better in the second half of the second half. This film is a thorough situational comedy film that keeps all logics aside. Venu Madhav is the highlight of the film. The mass audiences are enjoying the comedy of the film very much. This film has chances of doing well in B and C centers. The Telugu film lovers who like the comedy of Venu Madhav can't afford to miss this film. Comedy film lovers might watch this film at their leisure. Hungama is a Venu Madhav's show all the way!!
Hungama Links
Muhurat
Press Meet
Photo Gallery
Audio function
Jeevi reviews of previous 5 films
Mr. Errababu
Subhash Chandra Bose
Ayodhya
Mumbai Express
Chandramukhi
More Reviews