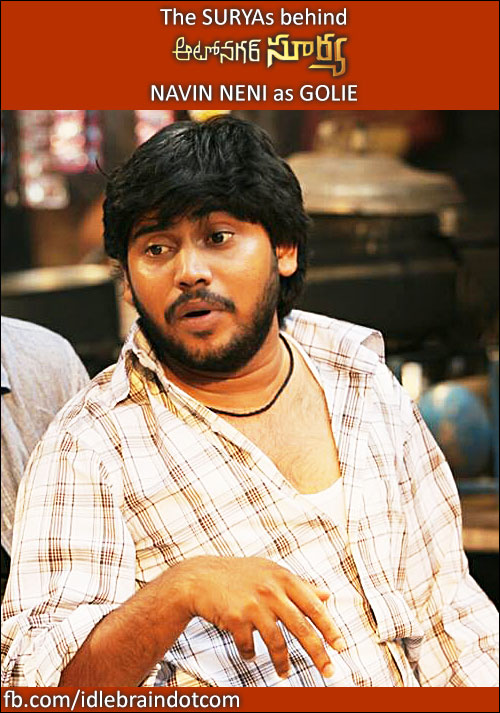 3 July 2014
Hyderabad
The SURYAs behind Auto Nagar Surya: In this series I would like to share my journey with the character artists who delivered impeccable performances in Autonagar Surya.
NAVIN NENI as GOLIE
Right from the day I started developing the story, the only person I had in mind for Golie character was my buddy Vennela Kishore. Even though the character needs to be killed in the later half of the film we both were willing dare the step because we felt his image would only add to the pain and feel of Surya's journey if executed properly. We both have immense mutual trust as we know each other for a long time. But unfortunately right when I was about to shoot my first schedule, Kishore had to go to Bankok to film for his directorial debut "Vennela one and a half". Though we both tried to adjust our schedules in as many ways as possible, It didn't workout. On top of it, Kishore really wanted to become a director before I pulled him into acting with Khadar character in Vennela. So with that guilt, I only wanted to encourage him for his ambition instead of insisting on postponing his schedule for me (I can also insist with him at times ).
After learning that Kishore is out of my options, I started auditioning for Golie along with other friend characters. Navin Neni was brought to me by my Super AD Phanindra(he is popular that way as he is 24 hours on call for the film). Though we filtered about four options, there was an innocent grasp in Navin's smile. It made me feel pleasant just to look at him. He's very funny to interact with and our first meeting was a laugh riot. Though he didn't have much acting experience till then (except for some mimicry and stage shows), I locked him for Golie's character immediately. We had to put some extra efforts into his dubbing but no regrets, as all we had was time during post.
He is a key element in giving a beautiful friendship chemistry around Surya along with Nandu(as Kichaa) and Harsha( as Pandu). Four of them look real, funny and beautiful on screen. Navin's best performance is his death scene, I was spell bound during the shoot. He is not only a comedian but can be a good character artist as well.
I thank this Surya for his commitment and sacrifices. Wish him all the best to reach higher altitudes in his career.
- Deva Katta
other ANS articles by Deva:
AJAY GHOSH as GIRI's AID
Ajay as Giri
Madhu Singampalli as Mayor Kotalingam
The seed of Auto Nagar Surya by Deva Katta
snippet 1: anaadhane.. kaani anaamakudini kaadu
snippet 2: edagadam
snippet 3: Motor Caste.
snippet 4: Loafer Jaathi