21 November 2015
Hyderabad
CASTE FEELING SREEKANTH
"Memu monne Satya Nadellaki sanmaan chesaam…Yenta maatram mana telugode kada!!!".
We also have a friend who is obsessed with caste…don't we?!!! Irritating that they are, they keep pushing their agenda and form their caste groups. No harm in that, provided they don't become obstacles in others love stories!!
In our story, Caste feeling Sreekanth is a NRI from America and belongs to the same caste as the Heroine. And that is a double whammy for our Hero!!
Introducing Rohit Varma as Caste feeling Sreekanth
Another actor from Mr. Productions after Raj Tarun, Rohit Varma is a complete contrast in real life. He is so laxy and lethargic before the shot, that everyone doubted whether he could act at all. But once the director says "Action", Rohit lights up on the screen. A Vizagiite, an engineering college drop out, Rohit hopes to finish his acting course with Barry John, something he postponed to finish this film!!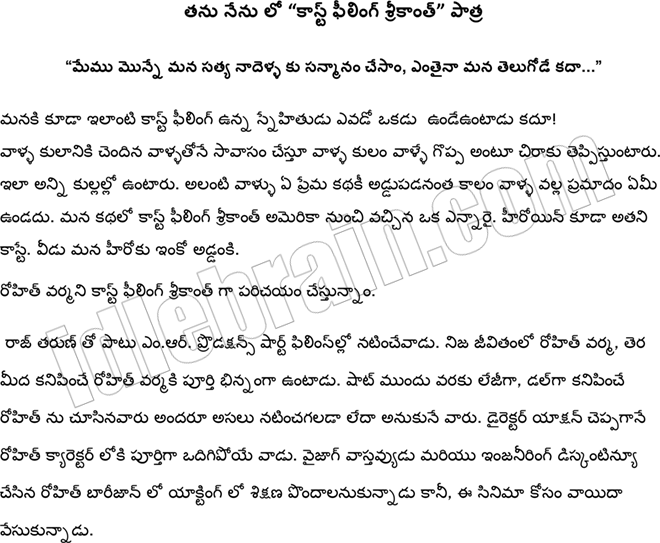 Other quirky characters of Thanu Nenu:
• Murthy Kavali as Waiter Srinu
• Ravi Babu as Bandireddy Sarweshwara Rao
• Satya Krishnan as Bandireddy Bhavani
• Abhishek Maharshi as Naresh