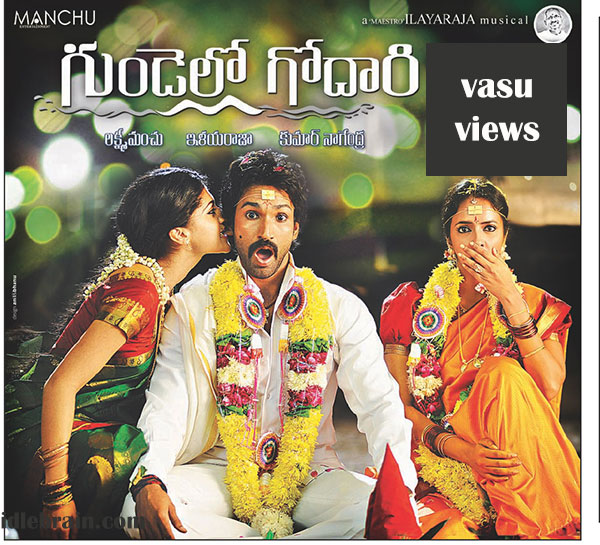 lakshmi did it --- Finally, she showed her mettle when it comes to proving that she is her father's daughter. What a performance this lasy showcased in this movie! She was quite tuned to her character.
Of course, the movie itself had a feel of 1978 (Padaharella Vayasu) and another movie that I would compare it to 1971 (Dasara Bullodu) because it brings out the historic feel.
The Locations, Attires, Decor were perfect and one more thing, the side actors who were so involved in their performance that they ate, sat, slept, behaved like a total country people. Which was amazing to watch and I am very impressed.
And the stories that have been popping out of Telugu Industry are just brilliant. I must also appreciate MANCHU ENTERTAINMENTS for such an excellent artistic movie.
My my – The songs – Jeez – What a Creative Job? All Credit goes to SIR & GURU – IIaiyaraaja! I cannot believe such a highly skilled man to break the back of many mass songs by composing PAKKA NAATU country CABARET! It also has such melodies 1970's tunes. Totally loved it – actually I can remember and hum like a bee to these songs.
This is a compliment because the last songs that I can remember or sang were from Telugu movies like kshana kshanam, Shiva, killer, etc. I think – I would give 4/5 just for the songs.
Of course, dancing to these tunes were none other than Lakshmi Prasanna, Taapsee, Mumaith Khan and Suja Varunee. Perfect movements and they stepped to the beat.
By the way, Taapsee resemblance to Soundarya is uncanny. Who used to speak and perform with cross lips but what an actress with such childlike looks? And Taapsee was behaving like her threw out the movie. Her stubborn nature actually provoked me to smack her but that is actually a compliment because she literally behaved like a rich kid with very strong dominating attitude - Totally Cool!
Aadhi and Sundeep Kishan are excellent actors and perfect match for this movie without over-shadowing the women or the story. Many would feel they could do better with bigger stars but I doubt that because it would have taken away focus from the story line. These young lads were such natural actors, who just went with the flow without much effort and made it look like a cake walk. But we know better – RIGHT!
Now, coming to a story – Journey of every human being has a story and drama. It all depends how you accept it and walk thru it like a strong wind. It's really nice to sit and watch a movie which has surreal touch to it. I wouldn't mind seeing this movie again. All the NRI's around the world should now learn to respect/accept/admire movie as art instead of nonsensical humor/half naked women dancing off like a cross breed between Vamp and Heroine. I should question audience – Why does Malayalam and Tamil movie break records because they connect to ART not just TIMEPASS screen shots.
This movie is being released in TAMIL (Maranthen Mannithen) and TELUGU!
Go watch – You won't be SORRY! I wasn't as I truly felt this movie deserves CREDIT!
By Vasudhara
bykerusso at gmail dot com
Other views by Vasudhara:
• The attacks of 26/11
• Kai Po Che
• Zila Ghaziabad
• Mirchi
• Ongole Githa
• Vishwaroopam
• Matru Ki Bijli Ka Mandola
• SVSC
• Naayak