Story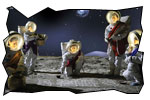 Amrutham (Sri Avasarala) and Anji (Harish Koyalagundla) who own a restaurant become ultra rich. When a company called RTC - Rocket Travel Company is launched to take people to moon, Amrutham and Anji decide to do business on Moon by selling all their earthly assets. Anji takes the responsibility of marrying off a couple who have dangerous parents. Rest of the story is all about their business venture on the moon and how they marry off the couple.
Artists Performance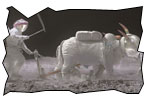 Actors: The best part about this story is that there are no heroes/heroines. There are endearing characters. Srinivas Avasarala has got an unique way of creating humor with dialogues, expression and body language. He used it to optimal effect in this movie. Harish Koyalagundla is an obvious choice to recreate Gundu Hanmantha Rao on the big screen. He has suited the role well. Vasu (Sarvam) and Sivannarayana created the same impact on big screen with their performances. Rao Ramesh, Ahuti Prasad, LB Sriram and Krishna Bhagawan are hilarious as salesman, factionist, marriage priest and space maintenance engineer respectively. Dhanya Bala Krishna and other female actors have performed well.
Technical departments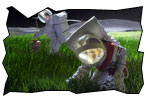 Story - screenplay - direction: The phenomenal success of Amrutham sitcom is due to it's simplicity and humor. Director/producer Gangaraju Gunnam made sure that he is true to what Amrutham sitcom stands for. He added simple humor while penning Amrutham Chandamamalo. At the same time, he lets his creative juices flow and pens a few rib-tickling scenes. The highlight scene of the entire film is the one in which Sivannarayana urinates in outer space while traveling to moon. The movie gains momentum from pre-interval episodes and the film sails on smooth trajectory in second half. Gangaraju Gunnam succeeds as a director in giving what people expect from a movie that is a franchise version of a sitcom.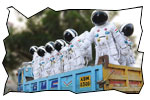 Other departments: Cinematography by Rasool is nice. Music by Sree is apt. Dialogues written by Gangaraju Gunnam are witty. The graphics in the film are seamlessly integrated with the visuals. Art direction by JK Murthy deserves a mention. The space suits, twin tower hotel and space shuttle are designed well. Editing by Dharmendra Kakarala is good.

Analysis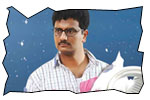 If you have watched Amrutham TV sitcom and enjoyed it, this is the movie for you. It's about simple humor, stupid characters and funny situations. I do remember an episode from American Sitcom Seinfeld in which George character pitches an idea for a TV episode and it's about nothing. Most of the sitcoms are about creating funny situations with stupid/innocent characters to create humor. Likewise, Amrutham Chandamamalo is film that entertains you with humor, but when you look back what the film is about. It's about nothing. Amrutham Chandamamalo is like a swagruha food with it's simple humor. Savor it.