Story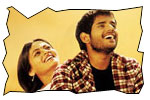 Arvind (Yasho Sagar) is a happy-go-lucky youngster in a neighborhood. Dhana Lakshmi (Sneha Ullal) is in love with her childhood buddy Balaji. She is in search of him and stays with a friend in the same locality that has Arvind. Arvind falls in love with Dhana Lakshmi, but she is in love with somebody else. Arvind realizes it and offers to help her finding Balaji. The rest of the story is all about how they fall in love in the quest of reaching Balaji.
Artists Performance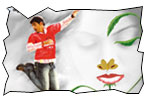 Actors: Yasho Sagar is the new kid in the block. He is very stiff and looks inflexible in histrionics. He needs to really work hard on being spontaneous and for looking casual on the screen. However, Sivaji's comedy timing in dubbing for Yasho Sagar make ups for it. Sneha Ullal is nice in the female lead. Unlike her earlier encounters in Bollywood, she is presented as a traditional girl. Among the friends gang, Suman Setty creates some comedy. Brahmanandam is hilarious as usual though he donned a small role. Chandra Mohan, Sudha and Satya Krishnan are adequate.
Technical Departments: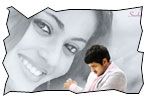 Story - screenplay - direction: The story of this film is wafer thin and there is a slight resemblance to that of Jab We Met. But screenplay written and treatment given is nice. Karunakaran has done a decent job in this film by inserting comedy and his trademark cute moments. The adaptation of '50 First Dates' for a love thread is good. However, the realization scenes of heroine should have been dealt in a more film manner. He carefully used the snail mail communication between childhood buddies for the convenience of screenplay. The 'vaddu saroja' episode and Hutch scene are hilarious.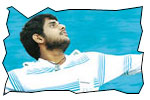 Other departments: Music by GV Prakash Kumar (AR Rehman's nephew) is an asset. Songs are canned well. Dialogues by Chintapally Ramana are good. Marthand K Venkatesh's editing is good. Cinematography is neat. Productions values are nice.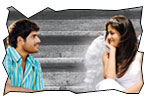 Analysis: The starting of the film is mediocre. But the film gets interesting as it progresses. The plus points of the film are some cute moments and the music. The negative point is casting. On a whole, Ullasanga Utsahanga is a decent love story with some cute and cherishing moments. You may watch it.
Ullasanga Utsahanga links
• Yasho Sagar chat
• GV Prakash interview
• Music launch
• Press meet
• Photo gallery
• Wallpapers
• Trailers
• US schedules
Jeevi reviews of previous 5 films
• Ready
• Dasavatharam
• Pandurangadu
• Kantri
• Parugu
• Bhale Dongalu
• Jalsa
More Reviews