Story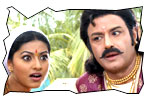 Ranga (Bala Krishna) is a flirtatious bachelor. He gets addicted to a prostitute called Amrita (Tabu). His parents try to reform him, but fail. Lakshmi (Sneha) is one of greatest devotees of Lord Krishna (Bala Krishna). One night Lord Krishna appears in her dreams and asks her to marry Ranga. Lakshmi somehow manages to wed Ranga. But Ranga keeps on going to Amrita and neglects his parents' advice. The rest of the story is all about how Lord Krishna makes Ranga realize the importance of being loyal to wife and to respect the parents.
Artists Performance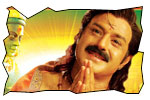 Bala Krishna donned two roles of the God and the devotee. He is pretty good in both these roles. His expressions in Lord Krishna character are excellent. Mohan Babu impresses everybody with his modulated diction as the one who preaches the greatness of the parents. Sneha is nice in this performance oriented role. Tabu's role has more of exposing and there is lot of cleavage show. She looks old though. Other heroines like Suhasini and Archana don't have much to do. K Viswanath, Siva Parvati and Balayya are adequate. LB Sriram could not get out of his usual mannerisms while doing the role of Narada. Sunil is alright as one of the comedians. Brahmanandam is wasted in an insignificant role. Y Vijaya looks ghastly with a wig. Item girl Meghana Naidu danced in a song.
Technical Departments: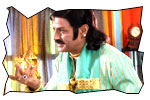 Story - screenplay - direction: This film is a remake of NTR's classic Panduranga Mahatyam. The story is about the redemption of a flirt and of an irresponsible son. The writer of the film had lot of limitations because of the original. The characterization and exposing of Tabu character is gone beyond the limits though her character is supposed to be that of a prostitute. Direction by K Raghavendra Rao is adequate. But he could not get the emotions work in this film the way he has done for Annamayya and Sri Ramadasu (that is probably because all Telugus are fond of those historic characters). Screenplay of the film should have been better.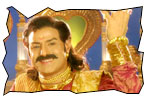 Other departments: The music scored by MM Keeravani is good. Cinematography by Jayaram is neat. Dialogues by JK Bharavi are nice. He used rhyme (prasa) to get a couple of good one-lines like pelli kala vachindi (kala refers to dream, but not glow) and 'meeru aadu (aada) vaaru. Memu aadinchu vaaramu'. Editing is alright.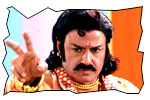 Analysis: First half of the film is alright though there is excess dosage of exposing by Tabu. Tempo in second half goes down a bit. But the movie is better in the last half an hour after Mohan Babu appears (the redemption process). The plus points are Bala Krishna and the music. On the flipside, the emotions would have been strongly established. We have to wait and see how this devotional film works at the box office.
Pandurangadu links
• Music launch
• Disc function
• Photo gallery
• Wallpapers
• Trailers
Abroad showtimes
USA
Jeevi reviews of previous 5 films
• Kantri
• Parugu
• Bhale Dongalu
• Jalsa
• Gamyam
• Ontari
• Mr. Medhavi
• Swagatam
More Reviews