Chit Chat with SS Rajamouli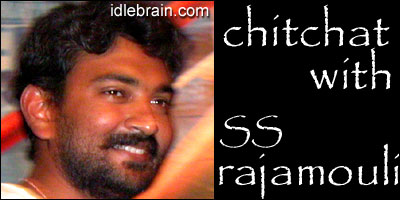 Sye - the mood to fight
A pressmeet was arranged by Sye unit on 12th September to inform the release date of Sye film as 23rd September. The scribes had a small chitchat with SS Rajamouli. Here are a few excerpts of the same
What exactly the 'Sye' (the challenge) mean?
Sye denotes challenge in English. The entire mood of the film has the charged up atmosphere of 'mood to fight'.
You have chosen Rugby game for hero to play. Don't you this game is bit alien to the Andhra crowds?
We had to choose a medium of game to explore the story of the film. Rugby is just a medium to carry forward the story. But the film's aim is not to teach/educate audience about rugby game.
Why rugby? Why not any other sport?
I personally find that Rugby game is an impact-making on. It is a brutal game. And also is a legal game.
Did Nitin undergo any training in Rugby game?
Yes. He and other relevant actors in this film have gone through a professional training for two months.
Who is the target audience of Sye?
We are primarily aiming at youth. At the same time, Sye has elements for all classes of audiences.
What do you think is unique in this film?
Stylish taking
What is the aim of hero in this film?
That single point holds the entire storyline. I would leave it for the people to guess till the film is released.
You had power flashback narratives in your two previous blockbusters (Student No.1 and Simhadri). Are you going to have a flashback episode for Sye as well?
I have taken a conscious decision and decided not to have a flashback in this film. This film would have straight narration.
Are you going to deliver any message through this film?
If you are looking for messages in films, Sye is not for you. I am not against message orient films. But I will make commercial films only.
When is the film releasing?
23rd September 2004
Also read chitchats with
Venkatesh
Mahesh Babu
Ram Gopal Varma
Vanisri