13 February 2010
Hyderabad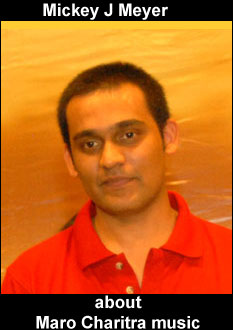 Music of Maro Charitra is releasing on 14 February on the eve of Valentines Day. Mickey J Meyer writes about his music for Maro Charitra in this exclusive item to idlebrain.com. Read on -
A Mickey J Meyer music composition
1. PREMA PREMA
(S) Karthik (L) Vanamaali
2. YE TEEGA PUVVUNO
(S) Shweta Pandit (L) Late Acharya Athreya
3. BALE BALE MOGADIVOY
(S) Shweta Pandit (L) Late Acharya Athreya & Veturi
4. NINNU NANNU
(S) Shweta Pandit & Sri Mathumitha (L) Vanamaali
5. WE DON'T CARE
(S) Ranjith, Smita & Varun Sandesh (L) Krishna Chaitanya
6. YE TEEGA PUVVUNO (THEME SONG)
(S) Karthik (L) Late Acharya Athreya
Credits
'ye teega' theme played on harmonica by CHANDRA SEKHAR. doube bass in 'ye teega' theme played by SURESH. solo violin in 'ye teega' theme played by KALYAN. string quartet and brass section by AMANDA ROGERS, MICHELLE and TOLIN. all rhythms composed and arranged by VENKATESH PATVARI. percussion by SAAFI ZUBEEN. keyboard programming and grand pianos by MICKEY J MEYER. chorus and backing vocas by KRISHNA CHAITANYA, ADITYA, KRANTI, SIDDHARTH & SHASHI KIRAN. recording engineers - RAVI, SHADAAB. all songs mixed by MICKEY J MEYER. all songs recorded at EAST SIDE MUSIQUE STUDIOS (hyderabad) all songs mastered by SHADAAB at PREMIER DIGITAL STUDIOS (mumbai)
Ye Teega
The plan while 'maro charitra' was being narrated to me was to remix the original tunes of 'ye teega' and 'bhale bhale' as they are timeless classics. My suggestion to use only the lyrics of these songs while composing a new tune was met with some surprise and hesitation; but the team supported me nevertheless. After I recorded the song, everybody liked it immensely. I must thank the director and the producers for reposing faith in me and hope that everybody will enjoy and appreciate the effort.
Prema Prema
This tune was composed on one Sunday evening in Chennai just before a holiday and we couldn't stop listening to it right through our trip. Though the initial lyrics were "ishq ishq", they were changed to "prema prema" subsequently. By the time we came back, the lyricist had put in immense effort to achieve the director's wishes and 15 excellent stanzas were written of which we had a tough time choosing the best.
Ninnu Nannu
My favourite song from this album. It's a simple melody, a beautiful rendition and a soulful arrangement. Beautiful lyrics convey its meaning in the simplest of words.
Bhale Bhale
As said, a remix of the original tune was the initial thought, but by this time, the newly composed tune for "ye teega" was already a hit with the team and so didn't take much to convince them to drop the plan of a remix.. They liked the idea of a new tune for old lyrics and were actually eager for a new tune rather than a remix. Though most of the original lyrics have been retained, some parts have been re-written by Sri Veturi.
Ye Teega (pathos)
The description of how this song was to be picturised inspired me to compose this piece. It was initially planned to be recorded with a full fledged symphonic orchestra but was later modified to a string quartet with a beautiful piece on the mouth organ and a solo violin. I think this song is visually very unique and I hope it will be loved for it.
We Don't Care
This was the last song composed in this album. Conceptualised as a peppy party song and the original version had lot of English words which were later replaced with Telugu lyrics and has a range of voices including Varun Sandesh, Ranjeet and Smita.
Maro Charitra links:
Press meet
Muhurat
Trailers