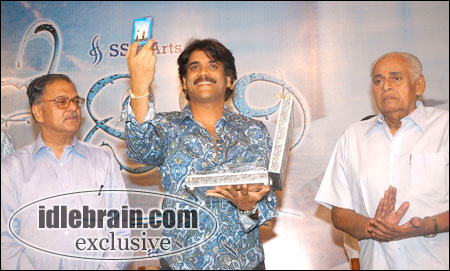 Watch high resolution video of Godavari audio launch by clicking the links belows
Video 1 (12.3 mb - 2.27 minutes) Sekhar Kammula speech
Video 2 (11 mb - 2.16 minutes) Veturi speech
Video 3 (8.83 mb - 1.45 minutes) KM Radha Krishnan speech
Video 4 (4.07 mb - 48 seconds) Kamalinee speech
Video 5 (12.3 mb - 2.28 minutes) Sumanth speech
Video 6 (2.7 mb - 31 seconds) Gopichand speech
Video 7 (17.3 mb - 3.28 minutes) Nagarjuna speech
Video 8 (4.96 mb - 58 seconds) audio launch
Audio of Sekhar Kammulas summer special Godavari was released at a function arranged in Hotel Viceroy by Nagarjuna. Nagarjuna released the audio and gave the first unit to Ramesh Prasad. Hero Gopichand also attended the function as guest.

Godavari too is like my daughter - Sekhar Kammula
Speaking about Godavari, director Sekhar Kammula said, "In the audio function of Anand, I compared the film to my daughter and talked to you of how I nurtured it. Likewise, I feel that Godavari too is like my daughter. We had gone through strenuous work at Godavari river for 90 days with a crew of 250 members. My intention has always been to make a good film with passion. Cinematographer Vijay C Kumar provided extraordinary work. I was little hesitant to take Sumanth in this film because of his Star lineage. I realized later that Sumanth is extremely disciplined and friendly. Anish Kuravilla who provided the caption Manchi Coffee lanti Cinema for Anand, has come up with another one for Godavari, Ee vesavi chala challaga vuntundi. Veturi has always been very kind to me and provided very good lyrics. This film boasts of clean entertainment and clean music. Heroine Kamalinee has done terrific job. Music director has gone two steps ahead for this Film compared to Anand's music."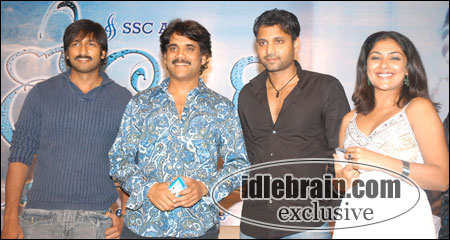 Pure Telugu lyrics - Veturi
Veteran lyricist Veturi said, "Director Sekhar Kammula gave me the opportunity to write pure Telugu songs after a long gap for Anand film. I got another opportunity to come up with good Telugu lyrics for Godavari film. Godavari river is well connected with the incidents happened in Lord Ramas life. KM Radha Krishnan has come up with soulful melodies in this album. "
Music director KM Radha Krishnan said that it is an easy task to compose music for Sekhar Kammulas film as Sekhar's narration is very clear and focused on what he expects in his music. He thanked his team members Praveen and Jaya Kumar for their contribution.
Godavari film is more romantic - Kamalinee Mukherjee
Actress Kamalinee Mukherjee said, "I am happy to have worked with this superb team for the second time. It was like a journey for all of us. It was great fun to work with Sumanth. Godavari film is more romantic compared to Anand."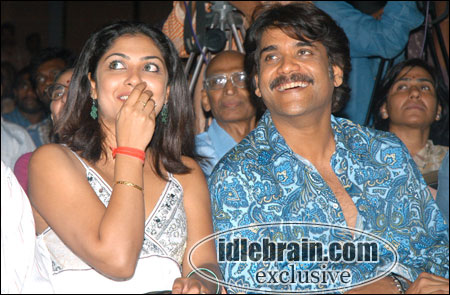 Godavari belongs to second category - Sumanth
Actor Sumanth said, "I have been in this film industry for six years. From my experience I can say that there are two types of hit flicks. One type is to do formula film. The other type is to take risk by bending rules and making different film and giving success. Godavari belongs to the second category. My uncle Nagarjuna is a fine example of scoring success by doing films like Shiva, Geetanjali, Annamayya and Sri Ramadasu. He made all these films against trends
and succeeded in it. The reason why we invited Nagarjuna is that Godavari too is a different film. All of us worked for this film like a family. Summer of 2006 will be cool because of Godavari."
Will take legal acion against online streaming - Sridhar Reddy

Sridhar Reddy (Madhura Entertainments) said, "Anand film and my music company Madhura Entertainments were started at the same time. I tried for Anand rights, but could not get them. If I had got those rights, Madhura Entertainment would have been established as a major player two years back itself. I request all websites to kindly restrain from streaming Godavari songs. If we find anybody doing streaming, we are going to initiate legal action with the help of cyber crime police."
Sekhar Kammula makes soulful films – Ramesh Prasad
Guest Ramesh Prasad said, "Sekhar Kammula is a committed and dedicated filmmaker. Prasad company is in business for 50 years and I was working for this company for the past 30 years. Whenever a new filmmaker meets me, I ask him the reason for entering filmmaking. Sekhar Kammula is one guy who came up with a satisfactory answer to my question. Sekhar Kammula makes soulful films. On this occasion I also would like to congratulate Nagarjuna for doing a good film like Sri Ramadasu. Success instills confidence in actors and Sumanth got lot of confidence after Satyam film. I wish that Godavari will become big commercial success."
Hero Gopichand said, "I know the script of Godavari. The film consists of scenes that resemble incidents that happen in our family. I am sure that Godavari will become a big hit".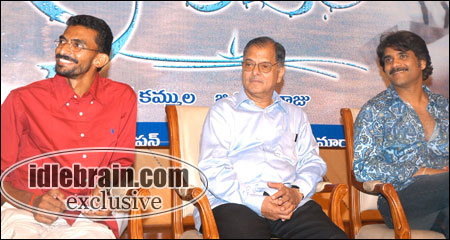 Sekhar Kammula has honesty and simplicity - Nagarjuna
Hero Nagarjuna said, I have seen Anand film and liked it very much. I observed simplicity and honesty in filmmaking style of Sekhar Kammula. KM Radha Krishnan composed nice classical music for Anand. I am not very conversant with classical music but after listening to Anand songs I developed an interest. The entire unit stayed 2 nights over boat at Papi Kondalu. That was the dedication of the team. I got the CD of Godavari music this afternoon. I liked all the songs. I hope that Kamalinee Mukherjee will get another Nandi with this film. I can see that Sumanth is going through the kind of phase (with Godavari film) I went through when I was doing Geetanjali and Shiva. I see the same kind of confidence in him like when I did those Films. It augurs well for him. The caption of the Film says the Summer will be cool this year, I infact want it to be Hot, with Godavari's theatres
filled with audience."
Nagarjuna also distributed cassettes to distributors Dil Raju (Nizam), Srihari Raju (Vizag) and Paras Jain (Ceded).
Godavari links
Press Meet
Photo Gallery
Sekhar Kammula interview