7/G Brindavan Colony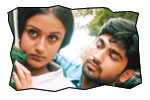 Time and again Mr A.M.Ratnam prooved himself as a productive producer. An ace producer with good sense. Though the movie is delayed by nearly 2months,its just nothing when it comes to the final product.(sound track recording, picture quality etc are simply superb.)
Coming to our Ace Director Mr. Selva Raghavan (alias Sree Raghava) a director with immense caliber, potential and with command both on the screen and off the screen. His screenplay is very nice. As usual like his earlier Tamil movies this time also he chose to come out with a risky project and I hope he succeeded in it. Because this type of movies with a sensitive storyline are very difficult to take and very difficult to convince and make the audience feel it to his frequency. This time too he succeeded. One sincere advice to our director, please don't allow others to remake Your movies in Telugu because they do all unnecessary modifications and finally bring it out as routine regular masala movies and say -MODIFICATIONS WERE DONE TO BRING CLOSE TO OUR NATIVITY. But finally original FEEL OF THE MOVIE vanishes far away from our so called NATIVE AUDIENCES…please u try to dub the movie by Your self in future. And u really know how to extract good score from Yuvan Shanker Raja, like Maniratnam from his father ILAYARAJA. Yours is a really wonderful combination. I wish lots of movies to come in future from these young dons of Indian panorama….
The second hero of the movie is none other than Yuvan Shanker Raja, his background music score is mind blowing. Two songs were really foot tapping and couple of songs were really very audible and heart touching. One should award full marks to this young dude.
Ravikrishna seems to be an actor with ease. Though this was his first movie he has given the impression that he can make people feel his feelings. His Pre and Pro Conversation during the rain (fight), while playing cricket, while trying to peep in the Soni's window is very nice. Especially his action in last few minutes of the movie is really good. Though the heroin is physically dead, he was feeling her presence eternally and this guy even made us to feel that way. Only small suggestion to you, please get trained from a good dancer, because our Telugu audience don't accept any person as hero if they don't dance properly. That's how they were mould by our earlier directors….(hope all of us know them………..)
Soni Agarwal is impressive and once again well crafted by our craftsmen Raghavan. Remaining all other actors were good in their roles. Suman Shetty is good as a loyal friend till the end.

Most of the people were really confused about the Climax but its that Climax which made all of us to think about it. Rghavan did a great job. I personally feel that's how a movie should be. If Soni marries RaviKrishna then nobody will feel the undercurrents of the entire story. Raghavan succeeded in showing her presence eternally though she was no more physically on the screen. That was really tough for any director to finish the movie with such a tragic ending compromising the movies commercial values. But fortunately movie went on the break the rules and kept cash counters ringing.
It's worth watching movie to our Telugu audiences after Anand.
Hi,im Jayaprakash, dental surgeon currently living in Hyderabad. Eagerly waiting to meet the Director and Producer personally if I was given a chance.

[email protected]
More My Movie experiences:
Raj - Anand
Purnesh - Anand
Purnesh - The Village
Sriram - Gudumba Shankar
Purnesh - Gharshana
Purnesh - Lakshya
Purnesh - Yuva
Leenesh - Yuva
Kis - Lakshmi Narasimha
Indian Pride - Tagore
Raj - Boys
Phani - Gangotri
Phani - Khadgam
Vikram - CKR
BKR - Indra (Singapore)
Ram - Indra (Dubai)
Ranjeet - Idiot
Rahul - Indra
King Koduri - Indra
Srilakshmi Katragadda - Mitr: My Friend