Story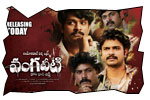 Chalasani Venkataratnam (Vamsi Nekkanti) is a supreme union leader CPI politician in Vijayawada. Vangaveeti Radha (Sandeep Kumar) is a small timer who attracts the attention of Venkataratnam. Radha joins the group of Venkataratnam and widens his base. After some time, Radha becomes a dominant player and Venkataratnam tries to tame Radha. Radha along with his gang murders Venkataratnam. Vangaveeti Radha gets a firm grip on entire city of Vijayawada after murdering Venkataratnam. Gandhi (Kautilya) and Nehru (Shritej) are brothers and students who come to seek help of Radha to curb external influence in college politics. Radha, Nehru and Gandhi floats a student organization. A high level politician from communist party plots the murder of Radha to avenge death of Venkataratnam. After the killing of Radha, his brother Vangaveeti Mohana Ranga (Sandeep Kumar) becomes the head. Ranga is level headed unlike his temperamental brother Radha. Differences crop up between Radha and Gandhi/Nehru which causes a split. They start another student organization. Rest of the story is about how Nehru brothers and Ranga fight over the dominance on the city of Vijayawada.

Artists Performance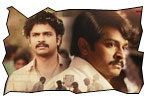 Actors: A major plus point of the film is casting. Majority of the actors are new. Sandy (Sandeep Kumar) is excellent in both roles of Radha and Ranga. Shritej is pretty good as a level-headed leader Nehru. Vamsee Chaganti is very natural as hot-headed Murali who comes into spotlight in the second half of the film. Naina Ganguly is proper as Ratna Kumari. Vamsi Nekkanti and Kautilya are effective as Venkatarathnam and Gandhi respectively.
Technical departments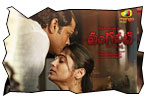 Story - screenplay - direction: Since it's a semi-biopic and is inspired by real events, there are bound to be many factual errors. Ram Gopal Varma has taken cinematic liberty and narrowed it down to the milestones of the Vijayawada famous political murders and reasons behind them. Killings and terrorising moments are the best aspect of any Ram Gopal Varma's mafia film. The one shot I liked the most in the film is throwing weapons in the backside of a lorry followed by goons alighting it from three sides. He has shown this shot from two angles. The most powerful moment in the entire film is when Ranga slaps Raju. The most cheered scene in the film is NTR's entrance. All the killings are shown very well and there is a lot of bloodshed in the film. Screenplay of the film is good. The voiceover by Ram Gopal Varma is very good with satire in it (Brahmam gari lantollu, Ammalanuganna Yamma etc).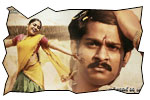 Other departments: Background music by Ravi Shankar is good and songs are picturised well. Though there is right emotion in it, Ram Gopal Varma's voice sounds awkward while rendering songs. Cinematography helps in bringing the period effect for the film. The top angle shots of Vijaywada city are grand. Art direction is good. Editing is alright. Dialogues are first-class (especially RGV's voiceover dialogues). Production values are good.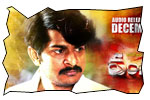 Analysis: The audiences for this movie belong to three categories. 1st one is knowledgeable ones. They know a lot about Vijayawada politics and journeys of Vangaveetis and Devinenis. They end up digging factual errors and tend to be highly opinionated. 2nd category is the type who are aware of it, but don't know the details. This film engages such people thoroughly as they will be interested to know more about characters and flow of events (killings). 3rd category is the type who don't have any political knowledge. They might find the film slow for the detailing Ram Gopal Varma has done. I belong to the second category. I found the film to be interesting and engaging because I like biopics and films based on real events. Normal audiences might find it have too much of bloodshed. Though he sounds daring and nonchalant while tweeting aggressively about anything on Twitter, Ram Gopal Varma tried to be politically correct while writing this film. On a while, if you interested in Bejawada politics, you might give Vangaveeti a try!!