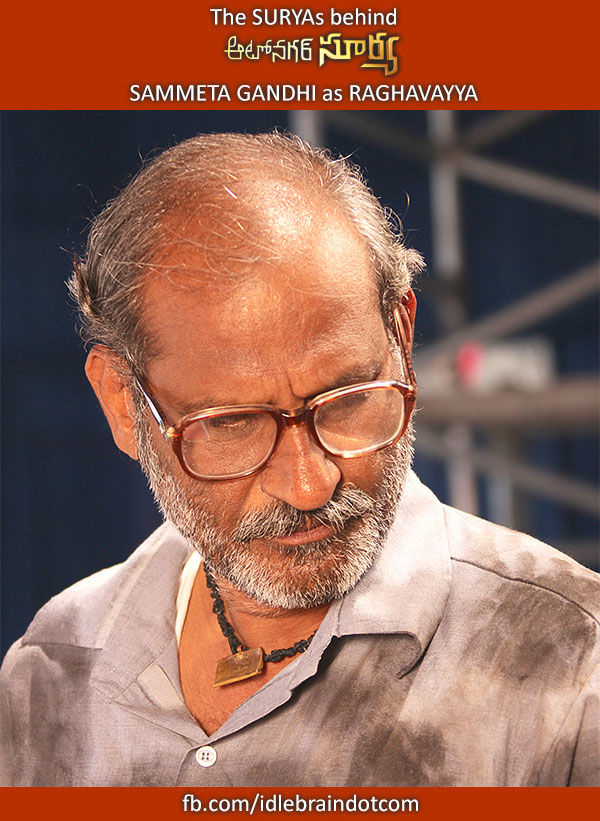 4 July 2014
Hyderabad
The SURYAs behind Auto Nagar Surya: In this series I would like to share my journey with the character artists who delivered impeccable performances in Autonagar Surya.
SAMMETA GANDHI as RAGHAVAYYA
In my view the character of Raghavayya is the next most important character after Surya as it reflects and embodies Surya's soul. Raghavayya is the first person who identifies the dignity of Surya as the nine year old boy asks for a payback mechanism before accepting a needy meal. It's the character that connects to Surya by his soul, shelters, nurtures and moulds Surya to live with dignity. In other words Raghava becomes the guardian of Surya's soul. Even when Surya is swept away in violence the most important moment of the entire film is between Surya and Raghavayya…when Raghavayya slides off breathing his last chanting "Surya" along with the crowd…while Surya is looking helpless, for becoming the monster among monsters. The world of Surya and Raghavayya is different, they are alone it and they are defenseless…that's the soul of this entire dramatic thread between Raghavayya and Surya. The writer's perspective between these archetypes is that, Raghavayya is the real life Surya where as Surya is the reel life relief for that Surya. In real many a Suryas end up like Raghavayya.
The look, voice and statue of Raghavayya is extremely important for ANS. I was fixed on going for an unknown, out of the field or a stage artist to cast Raghavayya. Luckily when I was discussing this with my art director Ravindar, he immediately recommended Sammeta Gandhi who was working in Rajanna at that time. I called in Gandhi gaaru for a meeting the next day. We had a very good chat and he did some stage acts and also sang some beautiful poems. It's his looks, capacity to feel and soul that captivated me and I thought he would thoroughly justify the character. He was also highly recommended by Jaya Prakash Reddy gaaru and deservingly so. The key challenge with Gandhi gaaru was convincing him to be younger when Surya was 9 years old. But we pulled it off since it boiled down to only for few shots in the final edit. The main asset of Gandhi gaaru is his voice and the dignified look in postures. The best moment for me in the film is when he walks across Surya's field of vision holding a brandy bottle as if there's nothing else left in life. Raghavayya's best interaction from the movie for me is:
Surya: "nuvvu chachchi poyaavani cheppaaru baabaay"
Raghavayya: "nenu bathikunnattu naake anipichchatledhuraa…"
I thank this Surya for his commitment and sacrifices. Wish him all the best to reach higher altitudes in his career.
- Deva Katta
other ANS articles by Deva:
NAVIN NENI as GOLIE
AJAY GHOSH as GIRI's AID
Ajay as Giri
Madhu Singampalli as Mayor Kotalingam
The seed of Auto Nagar Surya by Deva Katta
snippet 1: anaadhane.. kaani anaamakudini kaadu
snippet 2: edagadam
snippet 3: Motor Caste.
snippet 4: Loafer Jaathi