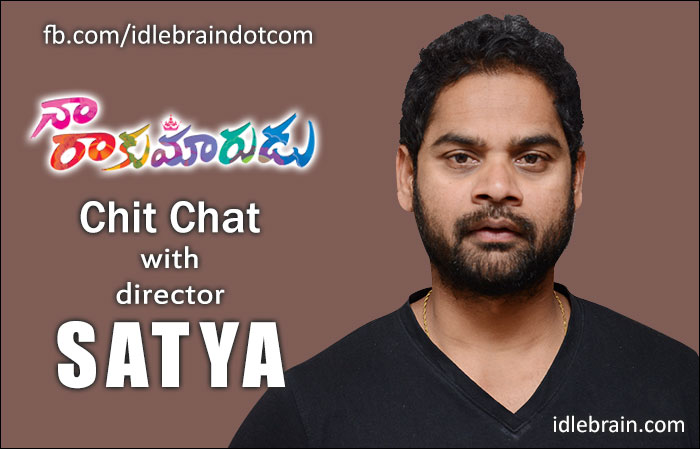 21 February 2014
Hyderabad
Satya - a protege of Puri Jagan is making his debut as director with 21 February release Naa Raakumarudu. Here is chitchat with Satya -.
Background:
I belong to Tuni, East Godavari. I have completed by MA in History at Kakinada. I came to Hyderabad and joined Puri Jagannadh to work for three films (Amma Nanna O Tamil Ammai, Shivamani and Andhrawala). I had been on hunt for a producer since then. I have met the producer Vajrang a couple of years back. He has liked the subject and Naa Rakumarudu is made.
Story:
Naa Rakumarudu is a romantic comedy where a girl is looking for a guy with only good qualities. I have also drove a point around through the story of Naa Rakumarudu that the education is must for women to win in life.
Casting:
I am impressed with Naveen Chandra's performance in Andala Rakshasi and I wanted to cast him in Naa Rakumarudu. When I suggested my producer to watch Andala Rakshasi, he thought that Rahul was the choice. Then we reworked on the looks of Naveen Chandra. He looks suave and sophisticated in Naa Rakumarudu compared to raw and manly looks he had in his past movies. We have cast Ritu Varma after watching a short film in youtube. She got a role in Prem Ishq Kaadhal after she started working for Naa Rakumarudu. We cast Sitara as a working mother of heroine.
I have shot the film in 50 working days and in limited budget. We started the shoot in August of 2013 and the first copy is ready by December 2013. The runtime of the film is 2 hours and 10 minutes.
Strengths:
I feel that story and dialogues are my strengths. After making this film I have realized that I am good at filmmaking as well. I will announce the genre of the next movie depending on the response to Naa Rakumarudu.