22 November 2015
Hyderabad
SIX PAK PUJARI
"Work out evitraa..? Work out? Devudu babu.. Devudu….. Kallu pothaay"
Yes, there are so many young poojaris in temples who do the rituals for all of us devotees. For them, it is a family tradition, which they abide by and live normal, lives outside the temple.
Our poojari in the film is someone like that!! He is just a bubbly youthful poojari who built a six pack because he is bare chested most of the time when in the temple.
In the story of "Thanu Nenu"… the poojari is funny, light hearted and yet does his job of binding us to the God.
Introducing "Subbu Chandagiri" as the Young Poojari…
Subbu Chandagiri is a software engineer by day and a short film maker by night. He has written and directed many short films including "XXXX" , based on which this Poojari character was inspired. Subbu is so passionate about films that he actually built a six pack for this movie and maintained it through the one year of film making.|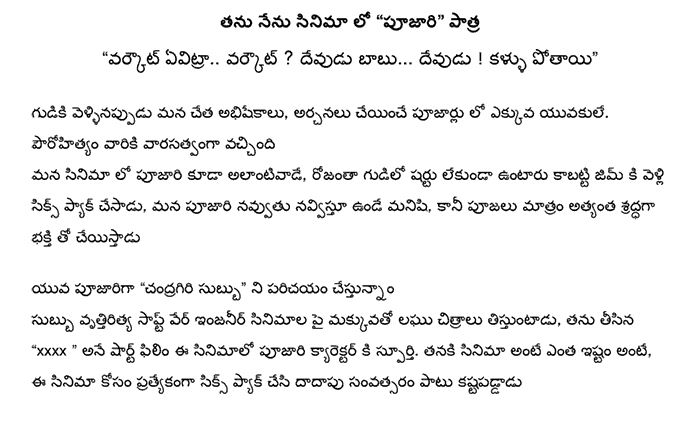 Other quirky characters of Thanu Nenu:
• Rohit Varma as Caste feeling Sreekanth
• Murthy Kavali as Waiter Srinu
• Ravi Babu as Bandireddy Sarweshwara Rao
• Satya Krishnan as Bandireddy Bhavani
• Abhishek Maharshi as Naresh