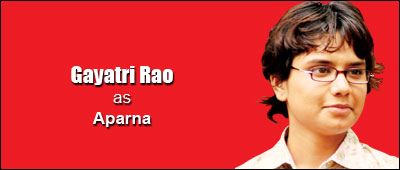 Background:
I was born and brought up in Hyderabad. I recently completed my +2 in St. Anns. I am interesting in acting since my childhood. I am a trained classical singer in Hindustani and Carnatic. I also learnt Kuchipudi dance besides playing Veena, Sitar and Mridangam. I joined in NCC and got a certificate. I represented my school for NCC on 15 August in Hyderabad.
Tell us about your role?
I am doing the role of a tomboy Aparna.
Favorite actors?
Mahesh, Siddhardh and Ileana.
Favorite films?
Anand, Godavari, Pokiri, NVNV and Sound of Music
What kind of roles you want to do?
I want to do both glamour and performance oriented roles. I am getting few offers. I want Happy Days to release first.
Don't you have any apprehension that film industry is a bad place to be in?
No. We can always take the good side of it and ignore the bad side aside.