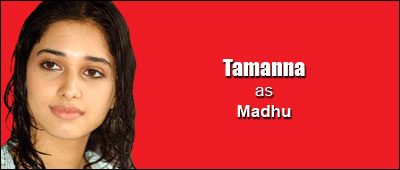 Background:
I am born and brought up in Mumbai. I did my first film 'Chand Ka Roshan Chehra' at the age of 13 and half. I did my first ad commercial with 'Fair & Lovely'. I made my debut with Sree film in Telugu. I also did Tamil films KD (Jadoo in Telugu) and Vyabari. I am 17 years old now and just completed my +2.
Your photos in idlebrain.com were circulated in internet as the photos of scandalous bar girl Tarannam Khan. How do you feel about it?
I was stunned. The press from Bombay Times were kind to me. They clarified that the photos belong to me (Tamanna). There should be a way to control these kinds of scandals. However, I do not worry much about it as it is a part of our job. We should better get used to it.
Tell us about director Sekhar Kammula?
He has the knack of showing simple things beautifully. I learnt a lot about how simplicity can speaks volumes. I saw his film Anand for at least 20 times. It instills positive thinking in us.
Do you want to continue your studies?
Yes. I completed my +2. I am taking BA through distance education. I like to let earning and learning go hand-in-hand. It is like getting paid to learn.
Who are your favorite actors?
Hrithik Roshan and Madhuri Dixit
Favorite films?
Anand (Telugu), Erin Brockovich , DDLJ and Mughal E Azam
Hobbies?
Dancing and books
What are your future projects?
Kalluri in Tamil and Happy Days in Telugu
Dream role?
I don't have any dream roles. But I prefer performance oriented roles and I love acting.