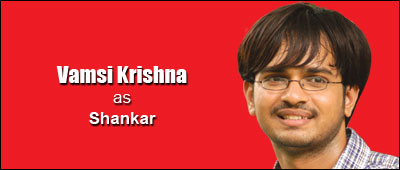 Background:
I belong to Srikakulam. My father is an employee in State Bank of India. I completed my B Tech in 2005 and worked in Cognizant Technologies for one and half year. I quit my job because I wanted to seriously pursue my ambition of acting in a film. I won the Andhra Idol contest in acting category of MAA TV. I am also a Bharatanatyam dancer.
How did you get selected?
I got selected through the Big FM contest. I was interviewed for 3 rounds. I attended workshop for 2 weeks.
Tell us about your character in this film?
I am doing the role of Shankar who is very studious. His priorities start changing from time to time depending on the situations.
What homework did you do for this character?
I believe to be in the character even when I am off the sets. I want people to recognize me as a good actor.
What are your future plans?
I want to continue in acting profession. I would like to do films with good story and good characterization. I will wait till the release of Happy Days before accepting the next project.
Who is your favorite hero?
Kamal Hassan. He broke the star mould and did character based films.
What are your favorite films?
Sankara Bharanam, Sagara Sangamam and The Legend of Bharat Singh.